November 17, 2020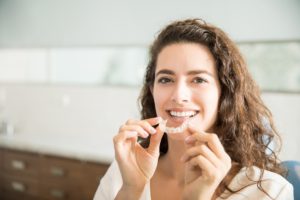 If you missed your chance for braces as an adolescent or you've experienced orthodontic regression, Invisalign in Sunnyvale is the ideal alternative to brackets and wires. The clear aligners provide a nearly invisible solution that resolves the common complaints and restrictions of metal braces. Here are 6 freedoms you'll enjoy when choosing Invisalign to achieve a beautiful, straight smile.
1. Freedom to smile confidently.
Invisalign doesn't rely on brackets or wires to move your teeth into position. Instead, a series of clear aligners are worn over your teeth to apply continual pressure to align them. The aligners are translucent, so no one will be able to tell you are wearing them to smile and speak without any worry.
2. Freedom to enjoy your favorite foods.
Traditional metal braces will cause you to miss out on your favorite foods while undergoing treatment, like popcorn. There aren't any dietary restrictions when choosing Invisalign because the aligners are removable. You're able to eat and drink anything you'd like; however, only have water while wearing them. Be sure to store them in their protective case when they aren't in your mouth.
3. Freedom from discomfort.
Since clear aligners don't use brackets or wires, there won't be any tugging or pulling on your teeth. In addition, there won't be any irritation to the inside of your lips or cheeks. It's normal for there to be slight discomfort when initially beginning your treatment, but it can be managed using an over-the-counter pain medication.
4. Freedom from a lengthy treatment.
Every treatment case is different, but Invisalign typically offers quicker results than metal braces. Most patients are finished with their series after 12 months. If your case is complex, you might require more aligners. It's best to wear your aligners for at least 22 hours per day and switch to the next one every week to ensure there aren't any unnecessary delays added to your plan.
5. Freedom to laugh.
When choosing Invisalign, you have the freedom to be yourself. You don't need to worry about brackets and wires drawing attention to your teeth. You can smile for pictures, carry on conversations with friends, and share time with loved ones knowing you have a professional and discreet treatment.
6. Freedom from lengthy oral hygiene routines.
Maintaining your oral hygiene is a breeze because there aren't any brackets or wires to clean around. Instead, care for your teeth as you normally do and clean your aligners properly using a soft-bristled toothbrush and clear antibacterial soap.
Invest in a Straight Smile
If you're ready to enjoy a straight, healthy smile, your dentist in Sunnyvale can help. They'll perform the consultation you need to create a personalized treatment plan. In about 1 year, you can have the beautiful smile you deserve.
About Dr. George T. Philip
Dr. Philip earned his dental degree at the Nova Southeastern University of Dental Medicine in Ft. Lauderdale. He regularly continues his training to offer advanced treatments, like Invisalign. Contact our office today to see if you're a candidate for clear aligners.
Comments Off

on 6 Freedoms You'll Enjoy with Invisalign
No Comments
No comments yet.
RSS feed for comments on this post.
Sorry, the comment form is closed at this time.