Dental Implants - Sunnyvale, TX
A Permanent Solution to Missing Teeth
With dental implants, you can have a fully restored smile again. Dental implants are the most stable, durable, and realistic tooth replacement method available today, combining one or more small titanium posts with a custom-made prosthetic to restore a tooth both above and below the gum line. When your procedure is finished, you can look forward to results that are unlike anything you can achieve with traditional prosthetics alone.
How Dental Implants Work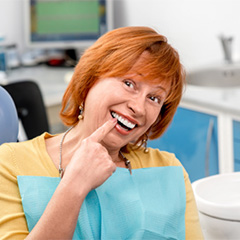 Dental implant tooth replacement is a multi-phase restoration method. Depending on the individual case, it may invovle completing preparatory procedures like tooth extractions and tissue grafts followed by dental implant placement surgery before finally designing, crafting, and placing a custom replacement tooth or teeth. During the treatment planning process, we'll review your specific case and help you to create a plan to address your specific needs quickly and effectively.
Benefits of Dental Implants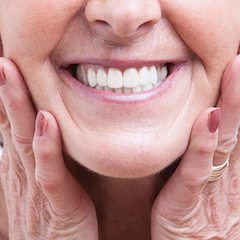 Before you get started with a dental implant tooth replacement plan, we will carefully review your treatment options, including the benefits and potential disadvantages of each solution to ensure you feel completely confident before getting started with your treatment plan. Some of the benefits of tooth replacement with dental implants include:
Longevity – an implant supported crown, bridge, or denture will last two decades or longer with proper care.
Self-supporting – the dental implants replace the lost tooth roots, providing full support for the replacement tooth or teeth without placing unnecessary pressure on surrounding teeth and oral structures.
Easy care – you can simply brush your replacement teeth just like you would your healthy, natural smile. Don't forget to keep up with your regular dental appointments.
Improved diet – you can eat all of your favorite foods without fear of shifting prosthetics or damaging your restoration.
Replacing a Single Tooth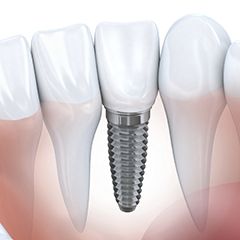 A natural-looking all-porcelain crown can be secured directly to an implant to make it seem like a tooth was never missing at all. It will be held in place using a small connector called an abutment, which also gives the new restoration internal support. Because the implant will have the same two-part structure as the teeth that surround it, it will seamlessly blend into the smile both functionally and aesthetically.
Learn More About Single Tooth Dental Implants
Replacing Multiple Missing Teeth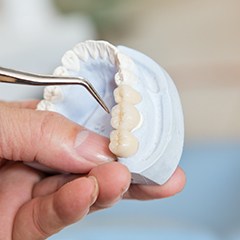 In the past, partial dentures and traditional bridges were the only way to replace multiple missing teeth. These restorations place stress on the neighboring healthy teeth in order to remain stable, which can cause them to slowly wear down over time. Fortunately, this is a problem easily solved by dental implants. With an implant-retained bridge, two implant crowns are placed on either side of the missing teeth, and they are connected to prosthetic teeth that fill in the gap. They're strong and secure on their own without relying on other teeth.
Missing All of Your Teeth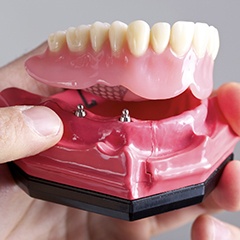 Want to have a denture you can always rely on to stay in place? Dental implants can give you exactly that! With implant-retained dentures, the prosthetic teeth are secured using multiple implant posts that are anchored within the jawbone, providing a durable hold that a typical removable prosthetic simply can't match. Plus, with implant dentures, patients also enjoy a much stronger bite, enabling them to enjoy a wider variety of foods with ease.
Learn More About Implant Dentures
The Cost of Dental Implants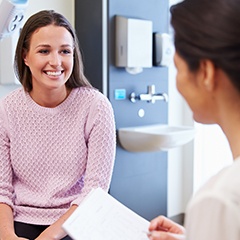 As with any dental procedure, the cost of dental implants can vary from patient to patient depending on their specific needs. Factors such as how many teeth a patient wants to be replaced, jawbone health, and insurance coverage can all influence the final cost. While implants can be more expensive upfront than traditional dentures and bridges, they are actually extremely cost-effective thanks to their longevity. Typically, dentures and bridges need to be replaced every 7-10 years, while dental implants can easily last for 30 or more with the proper maintenance.
Learn More About the Cost of Dental Implants
Are Dental Implants Right for Me?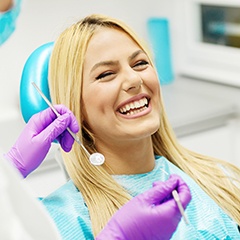 Dr. Philip will assess your oral health to make sure that you have enough jawbone structure to hold your dental implants in place permanently. This isn't the only thing that Dr. Philip will evaluate to determine if dental implants are the best restorative option for you. In fact, ask yourself these quick questions to begin thinking if dental implants are a good option for you:
Are you committed to improving your oral health?
Are you willing to quit smoking or using tobacco if you're a current user?
Do you feel as if your jaw is in good strength? Do you have a prematurely aged appearance from a sunken jaw?
Do you have any pre-existing conditions that may interfere with your oral surgery?
Do you have more questions about dental implants and what they could do for you? Contact our Sunnyvale dental practice to schedule an appointment.