Dental Implants – Sunnyvale, TX
A Permanent Solution to Missing Teeth
If you're missing one or more teeth, you may be considering getting a bridge or denture. However, because these restorations only replace the visible parts of teeth that sit atop the gums, they end up not feeling very natural or lasting very long. For a more reliable, durable tooth replacement, Dr. George Philip and the rest of our team cannot recommend dental implants in Sunnyvale enough. With a 95% success rate and a potential to last a lifetime, it's no wonder that dental implants are becoming increasingly popular. Contact us today to learn how dental implants can improve your smile and overall quality of life!
Why Choose George T. Philip, DMD for Dental Implants?
Partnered with Highly Trained Local Dental Implant Specialists
Flexible Payment Plans Available
State-of-the-Art Dental Technology Used
What Are Dental Implants?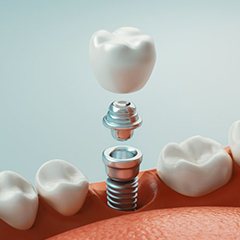 A dental implant is a titanium post that replaces the part of the tooth you can't see. The post is surgically inserted into the jaw, where it serves as the root structure for a lost tooth. After the surgery, the surrounding bone and other oral tissues bond with the implant in a process called osseointegration. Then, a metal attachment called an abutment is secured onto the implant. Lastly, Dr. Philip places a custom-made dental crown (or bridge or denture, depending on how many teeth you wish to replace) atop the abutment, completing your smile with flawless results.
By reconstructing missing teeth from the roots up through the crowns, dental implants are able to look, feel, and function almost exactly like the pearly whites you used to have. They're also able to last significantly longer than any other tooth replacement solution. For those reasons and many more, Dr. Philip recommends dental implants for most patients who are looking to rebuild their smiles.
The Dental Implant Process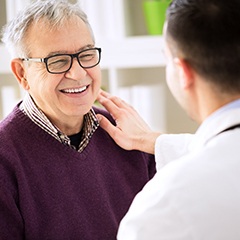 Dental implant tooth replacement is a multi-phase process. Depending on the individual case, it may involve completing preparatory procedures like tooth extractions and tissue grafts followed by dental implant placement surgery before finally designing, crafting, and placing a custom replacement tooth or teeth. During the treatment planning process, we'll review your specific case and help you to create a plan to address your specific needs quickly and effectively.
Preparatory Procedures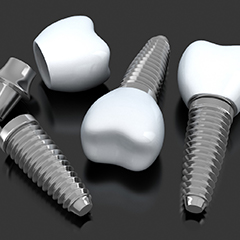 Before we can replace missing teeth with dental implants, we need to ensure your oral and overall health. This includes reviewing current and past health concerns, medications, and your jawbone density and gum tissue volume. We may need to extract damaged teeth, place a bone or soft tissue graft, or provide treatment like gum disease therapy to maximize your chances for successful dental implant placement.
Dental Implant Placement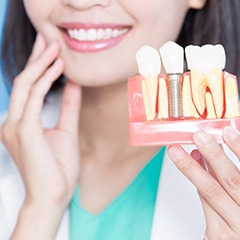 Once we have completed your plan and prepared your smile, we'll schedule your surgery to have one or more implants placed. This is usually as simple as making a small incision in the gums. Then, the implant post is positioned into the gum line. A protective cap is attached to the implant, allowing it to heal and fuse with supportive structures over the course of several months.
Abutments & Restoration Design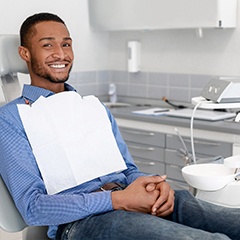 Once the implant has fused with the jawbone, you'll return so we can attach the abutments (connector pieces) and design your replacement teeth.
Replacement Teeth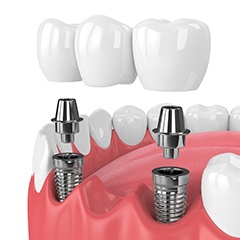 When we receive the dental crown, bridge, or denture from our lab, you'll return to the dental office for the final step of the restoration process. Dr. Philip will affix the restoration to your abutment posts, recreating a flawless smile you'll be proud to share. Most restorations are semi-permanently affixed, but removable dentures may also be available.
Benefits of Dental Implants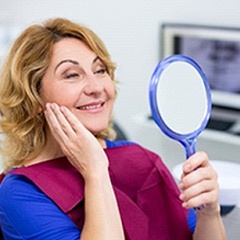 Before you get started with a dental implant tooth replacement plan, we will carefully review your treatment options, including the pros and cons of each solution. Unlike other treatments, dental implants come with a unique set of advantages because of their surgical placement in the jawbone. Keep reading to learn more about the benefits of dental implants in Sunnyvale.
Day-to-Day Benefits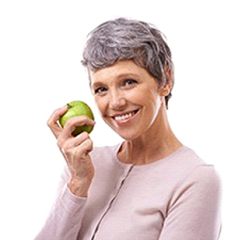 Look and feel: Dental implants feel completely natural because your jawbone fuses to the implant post, so you'll never need to worry about any slipping or irritation. In addition, your restoration is made of all-ceramic material to mimic the appearance of your natural tooth.
Stability: Dental implants don't rely on any natural teeth for support. This allows them to remain unchanged to ensure they last for a lifetime with the right aftercare. Not to mention, you'll enjoy unmatched security, so you'll never need to worry about any slipping or irritation.
Diet: Dental implants help you regain as much as 70% of your natural biting force. This allows you to eat a more varying diet that is better tasting and better for you.
Confidence: Without worrying about your missing teeth or an unstable denture, you'll have the confidence to smile, speak, and eat in any social or professional setting. Enjoy a boost of self-esteem every time you show off your grin.
Health Benefits
Oral health: Dental implants in Sunnyvale help support your remaining teeth by preventing them from drifting out of place. This also lowers your risk of cavities, gum disease, and additional tooth loss.
Bone health: A dental implant is the only treatment that can stop bone loss associated with missing teeth. The implant post stimulates your jaw to encourage new growth. This keeps your jawbone strong to preserve any remaining teeth while also providing a more youthful facial appearance.
Maintenance: Your oral hygiene routine is essential to the long-term success of your new smile. Don't worry, dental implants don't require a lengthy maintenance process or any expensive cleaning products. Simply brush at least twice a day and floss nightly just as you would your natural teeth. Pay a little extra attention when cleaning around the abutments, and don't forget to visit your dentist at least twice a year for a cleaning and checkup.
Long-Term Benefits
Reliability: Dental implants are the most reliable treatment for missing teeth. They have over a 95% success rate even after 10 years. This gives you peace of mind when choosing a procedure that does require minor surgery.
Longevity: With proper care, dental implants can last for over 30 years. While dental implants tend to cost more than other options, they can actually save you money in the future by helping you avoid replacements and the dental appointments that come with them.
Convenience: Because dental implants last for so long, you can invest in your oral health and your quality of life without having to worry about replacements as long as you maintain your dental hygiene at home and visit your implant dentist in Sunnyvale regularly.
Who Dental Implants Can Help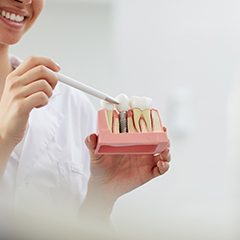 The great thing about dental implants is their versatility. Generally speaking, most people with missing teeth who are in good oral and overall health are eligible for this treatment. They can rebuild your smile no matter how many teeth you have lost!
Who Is a Good Candidate for Dental Implants?
Dr. Philip will assess your oral health to make sure that you have enough jawbone structure to hold your dental implants in place permanently. This isn't the only thing that Dr. Philip will evaluate to determine if dental implants are the best restorative option for you. In fact, ask yourself these quick questions to begin thinking if dental implants are a good option for you:
Are you committed to improving your oral health?
Are you willing to quit smoking or using tobacco if you're a current user?
Do you feel as if your jaw is in good strength? Do you have a prematurely aged appearance from a sunken jaw?
Do you have any pre-existing conditions that may interfere with your oral surgery?
Even if you do not currently meet these standards, you may still qualify for dental implants! We may simply have to plan out one or more preparatory treatments to ensure dental implant success. During your consultation, we can discuss whether any of these procedures are necessary.
We can also talk about how many implant posts you'll need. As we touched on earlier, dental implants can replace any number of teeth:
Missing One Tooth
To replace a single tooth, a natural-looking all-porcelain crown can be secured directly to an implant to make it seem like a tooth was never missing at all. It will be held in place using a small connector called an abutment, which also gives the new restoration internal support. Because the implant will have the same two-part structure as the teeth that surround it, it will seamlessly blend into the smile both functionally and aesthetically.
Missing Multiple Teeth
In the past, partial dentures and traditional dental bridges were the only way to replace multiple missing teeth. These restorations place stress on the neighboring healthy teeth in order to remain stable, which can cause them to slowly wear down over time. Fortunately, this is a problem easily solved by dental implants. With an implant-supported bridge, two implant posts with crowns are placed on either side of the empty space, and they are connected to prosthetic teeth that fill in the gap. They're strong and secure on their own without relying on other teeth.
Missing All Teeth
Want to have a denture you can always rely on to stay in place? Dental implants can give you exactly that! With implant dentures, a full row of prosthetic teeth is secured using multiple implant posts that are anchored within the jawbone, providing a durable hold that a typical removable prosthetic simply can't match. Plus, with implant dentures, patients also enjoy a much stronger bite, enabling them to enjoy a wider variety of foods with ease.
Learn More About Implant Dentures
Understanding the Cost of Dental Implants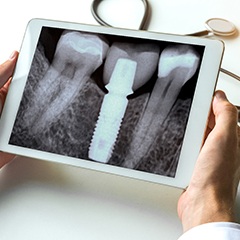 As with any dental procedure, the cost of dental implants can vary from patient to patient depending on their specific needs. Factors such as how many teeth a patient wants to be replaced, jawbone health, and insurance coverage can all influence the final cost. While dental implants can be more expensive upfront than traditional dentures and bridges, they are actually extremely cost-effective thanks to their longevity. Typically, dentures and bridges need to be replaced every 7 to 10 years, while dental implants can easily last for 30 or more with the proper maintenance.
Types of Dental Implants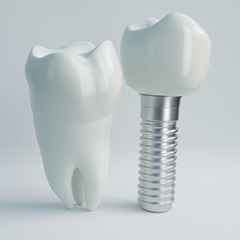 The materials used to make your implant post, the portion that effectively becomes your replacement tooth's root, can influence the cost of your overall treatment. However, the number of implants you intend to replace has a much larger influence because it makes every aspect of your treatment more complex. The price can also be influenced by the manufacturer our office purchases the implants from. During your consultation, our office will go over all of these details so that you can remain informed during every step of the implantation process. If you have questions about the options we choose, feel free to ask!
What Are the Stages of Dental Implant Treatment?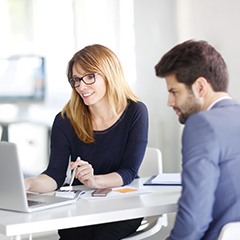 Keep in mind that most patients do not pay for their dental implant treatment upfront. Instead, people will make regular payments to pay the cost over time, which makes sense since treatment is a several-month-long process. However, each stage does come with its own set of costs depending on your needs.
To start, the planning stages of your treatment may include bone grafts, extracting teeth, or periodontal therapy. Bone grafts expand bone volume, while periodontal therapy improves the health of your gums; both treatments improve your eligibility for treatment.
The implant surgery can also vary in cost depending on how much time is needed to complete the placement of each post. This stage may also include the placement of abutments, which act as connectors for the restoration and implant itself.
Finally, the design and placement of your restoration, which may be a single crown, bridge, or denture, can dramatically influence your overall cost.
Are Dental Implants Worth the Investment?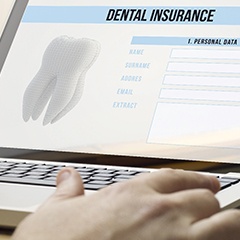 Dental implants are considered to be the most cost-effective solution to dental implants because of their longevity, durability, functionality, and lifelike aesthetics. They do not require replacement every 7 to 10 years like dentures. Bridges also require replacement every 10 to 15 years. In contrast, dental implants can last anywhere between 25 years and a lifetime when properly maintained. For these reasons, dental implants are truly worth the investment, as long as you understand the long-term benefits.
Does My Dental Insurance Cover Dental Implants?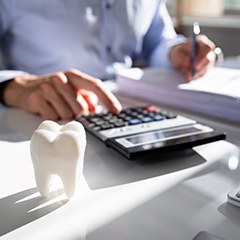 While you'll need to check the details of your insurance policy, dental implants are not typically covered by dental insurance. Even if yours does not, it's worth considering how it may cover the cost of preparatory treatments or the restoration itself. Opting for flexible financing plans like CareCredit can also make payments more manageable. Either way, we'll work with you as you explore your resources to make dental implants fit into your budget.
Dental Implant Post-Op Instructions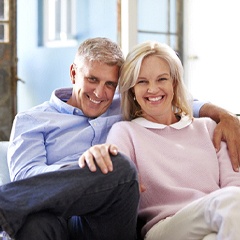 After placing your dental implants, Dr. George Philip will provide you with the guidelines you need to make a smooth recovery. Even though this treatment has an incredibly high success rate, it's still crucial that you follow our dental implant post-op instructions in Sunnyvale to a tee. That way, you can minimize the risk of unpleasant complications. For the most part, dental implant aftercare is fairly simple; here is a basic outline of what you can expect during the recovery process.
What to Do Directly After Dental Implant Surgery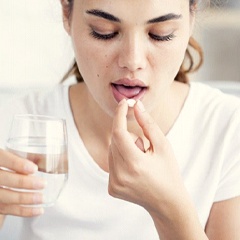 Your top priority for the first few days is making sure that the blood clot that forms over the implant site remains untouched. If the clot is disturbed, it can cause dry socket – a condition that not only hurts, but ultimately lengthens the healing process. To promote smooth healing and prevent dry socket, do your best to avoid:
Spitting (swallow your saliva and use tissues instead of blowing your nose)
Drinking through straws
Smoking
Putting your fingers or tongue near the site
Common Side Effects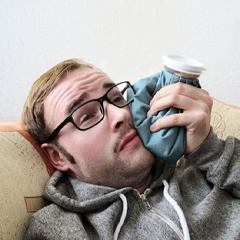 It's perfectly normal to experience swelling, intermittent bleeding, and general discomfort for the first few days to a week after your surgery. Take your prescribed pain medication as needed to soothe discomfort. Placing a cold compress to your cheek can reduce pain in addition to swelling. For bleeding, apply gauze to the area with light pressure.
These side effects should gradually subside as time passes. However, if your symptoms seem unusually severe or you find them intensifying rather than fading, don't hesitate to contact your implant dentist in Sunnyvale.
Diet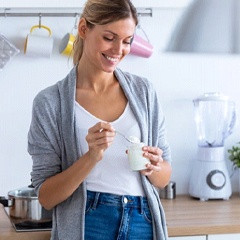 We highly recommend sticking to a diet of primarily soft foods following dental implant surgery, such as:
Plain yogurt
Mashed potatoes
Soup (as long as it's not too hot)
Pudding
Ice cream
Applesauce
Pasta
Scrambled eggs
You can resume your regular diet once you feel up to it, but we recommend limiting foods that are particularly tough or crunchy and avoiding chewing directly with the implant site.
Health & Oral Hygiene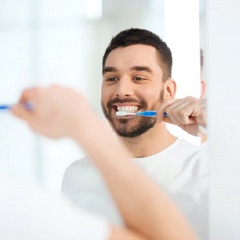 The day after your surgery, you can brush your teeth as normal, but be careful near the surgical sites. For the first week or so, rinse your mouth with saltwater two or three times each day, preferably after meals. Again, do NOT spit forcefully, as it could lead to dry socket. If we have prescribed you a special mouthwash to use during this period, use it as directed. Avoid mouthwashes that contain alcohol if possible; alcohol can inhibit healing.
What to Do After Your New Teeth Are Attached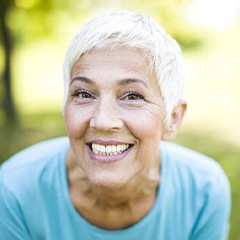 Once Dr. Philip has placed your crown, bridge, or denture on top of your dental implants in Sunnyvale, you can rest easy – the hard part is over! You may experience some mild sensitivity in your gums near the site, but this should be temporary. You'll be ready to show off your smile as soon as you step outside of our office!
Dental Implant FAQs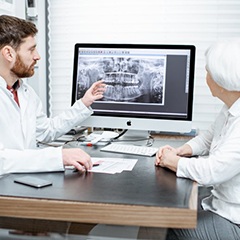 Do you have a few questions before committing to dental implants in Sunnyvale? Dr. Philip and our team are here to help! If you would like specific answers from our knowledgeable staff, contact our office today to schedule a one-on-one consultation. However, if you would simply like a bit more information before moving forward, read on for the answers to some frequently asked questions!
How Long Do Dental Implants Last?
Thanks to high-quality materials and state-of-the-art technology, dental implants can last 20+ years with proper care! Therefore, to prolong the lifespan of your full smile, it is crucial to prioritize your oral hygiene routine. Priority number one is keeping your mouth infection-free by brushing twice a day, flossing daily, and avoiding cavity-causing foods and beverages (like soda). And, of course, make sure to visit your dentist every six months for a routine exam and professional cleaning. That way, they can catch dental concerns when they are small and effectively clean the hard-to-reach areas of your mouth.
Is There Anything I Shouldn't Eat with Dental Implants?
Following your procedure, you will need to stick to soft items, like yogurt, mashed potatoes, and scrambled eggs. Foods like this won't irritate the implant site, ensuring a smooth, comfortable recovery. Once our implant dentist in Sunnyvale gives you the okay, then you can transition back to your normal diet. Nevertheless, like your natural teeth, there are a few items you should limit to keep them in pristine condition. In addition to limiting sugary foods and beverages, avoid hard products that can leave them vulnerable to cracks and chips.
Does Getting Dental Implants Hurt?
Since most patients' dental anxiety stems from fear of pain, it's not surprising that one of the most common questions about getting dental implants is, "Will it hurt?" If you have a similar reservation, then you'll be happy to learn that Dr. Philip and our team go above and beyond to ensure our patients are comfortable throughout every step of the process. In addition to numbing the area before the procedure, we also provide you with an extensive list of aftercare instructions to help. While you may experience some irritation following the procedure, sticking to soft foods, gently cleaning your teeth, and taking over-the-counter medication as needed can help you have a smooth, pain-free recovery.
What Can Cause Dental Implants to Fail?
Dental implants are a state-of-the-art tooth replacement solution that currently holds a success rate of over 95%! While they are considered one of the most successful tooth-replacement options in the short and long-term, it is possible for them to become loose, fall out, or otherwise fail. One of the most common culprits is peri-implantitis, which is a form of gum disease that develops from poor oral hygiene. Another reason they would fail is because of failed osseointegration (the process of the jawbone and the implant post fusing together). Tobacco use, teeth grinding, and certain health conditions could also be to blame. Don't worry – we will go over all of the risk factors at your initial consultation to provide you with the highest likelihood of success.
Maintaining & Caring For Your Dental Implants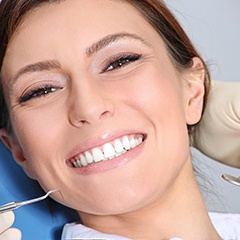 When it comes to longevity, dental implants truly stand out in the tooth replacement space. Not only are they natural-looking and capable of withstanding just about any food you throw at them, but they are designed to last for decades. Of course, like natural teeth, they need to be well taken care of for that to happen. The good news is most maintenance is relatively straightforward and nearly identical compared to natural teeth. Dr. Philip is happy to break down the most important steps to take as part of your long-term care for your new dental implants!
Make Oral Hygiene a Priority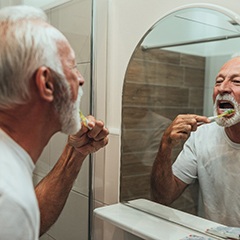 It doesn't matter if you have natural teeth or dental implants; oral hygiene is just as important. Brushing twice a day for at least two minutes as well as flossing daily are necessary to keep dental plaque from developing on the gums. It's true the restoration attached to the implant cannot develop decay, but the gum tissue can still become inflamed and cause the implant to fail.
Eat a Healthy Diet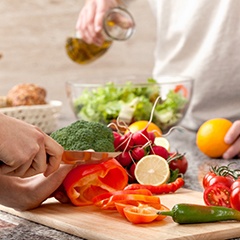 Diet is just as important for your oral health as at-home hygiene and completing dental checkups. After all, exposing the mouth to nothing but sugar and starch is simply asking for a higher risk of cavities and other dental problems. Make sure to incorporate foods into your diet that are mouth-friendly, such as fruits and vegetables. These contain essential vitamins and nutrients that are good for the teeth and gums. Lean proteins and dairy products can also play a major role in your diet and long-term oral health.
Break Bad Habits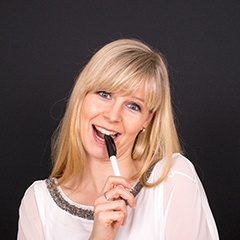 Dental implants are strong, but they can't withstand tasks that natural teeth aren't suited for either. That includes chewing on pens and pencils, biting your fingernails, or eating very hard or tough foods without using some caution. It's also not advised to use your teeth as a tool when a knife, bottle opener, or scissors would be more appropriate. Using your teeth to perform tasks better suited for a tool is a sure way to crack a restoration (or worse, dislodge the implant entirely!)
Protect Your Dental Implants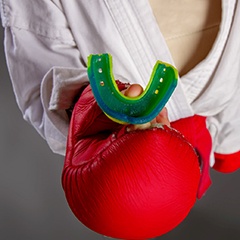 If you find yourself participating in activities that involve a high risk of impact, don't forget to wear a mouthguard while you do! One of the most common causes of dental emergencies outside of tooth decay is sporting injuries. While every oral injury can't be avoided, recognizing situations where the risk is substantially higher is essential in maintaining the longevity of your dental implants. For example, those who play basketball, football, baseball, hockey or participate in activities like karate, wrestling, or boxing should wear a custom mouthguard for optimal protection.
Schedule Regular Dental Checkups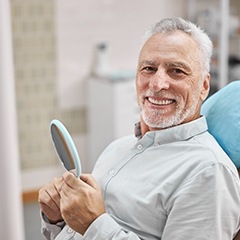 Your dental implants require consistent attention from a dental professional like Dr. Philip. Not only can he confirm that you're doing everything you need to do to prevent dental disease, but he can make sure no underlying problems are present without you knowing it. Most patients should come in every six months, but those with frequent dental problems may need to come in more often.