Dental Crowns – Sunnyvale, TX
Rebuild Broken & Decayed Teeth
A dental crown is a special protective covering used to restore strength and functionality to a vulnerable tooth. Often, they're used following a root canal or in cases where a filling will no longer be effective. In both of these cases, the tooth has become weak and its long-term health is compromised. A crown offers special protection, allowing patients to keep their tooth and the root underneath. What's more, crowns are made to resemble the way teeth look, offering results that are both strong and natural-looking. You can look forward to having a healthy, beautiful, and fully functional smile again.
Dental Crown Process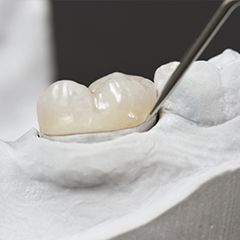 A full crown procedure takes two appointments to complete. During the first, restorative dentist Dr. Philip will remove any remaining decay from around your tooth and begin shaping it. Then, our team will make an impression of your tooth, which our lab will use to make your new restoration. Depending on your needs, your crown may be made from porcelain, gold, or porcelain over gold.
Meanwhile, you'll wear a temporary crown until your permanent restoration is finished. During your second appointment, all we have to do is remove your temporary and put your finished crown in place.
Preventive Dentistry Emergency Dentistry Restorative Dentistry Dental Implants Cosmetic Dentistry Advanced Services & Technology View Our Services