Dentures and Partials – Sunnyvale, TX
Get Your Healthy Smile Back
You need a complete set of teeth to maintain great oral health. If there are any gaps in your smile, it's not just your appearance that suffers; you won't be able to eat and speak as well as you should, and it could even affect your lifespan. Luckily, custom-made, natural-looking partials and full dentures in Sunnyvale from Dr. Philip can give you back a complete, beautiful and fully functional grin.
What are Dentures?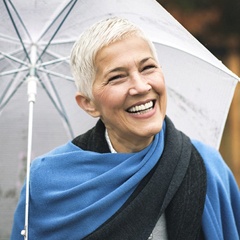 Dentures are probably the most famous way to replace missing teeth in either your upper or lower arch. The false teeth are usually made from ceramic or acrylic so that they'll look as close to the real thing as possible; they're set into a base with a metal frame that's been covered in a gum tissue-colored plastic.
Options for Dentures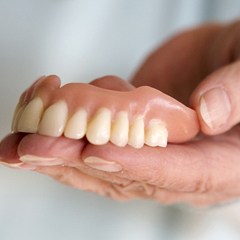 Depending on the extent of tooth loss and your overall health, you can get one of three different kinds of dentures:
Full Dentures: These replace an entire arch of teeth. Modern dentures are more natural-looking and comfortable than ever; they'll help you feel at ease while smiling, laughing and speaking. While they sometimes are held in place with an over the counter adhesive, sometimes natural suction is enough to keep them on your gums.
Implant-Retained Dentures: These are full dentures supported by tiny titanium posts that have been surgically inserted into the jawbone. The implants snap onto the dentures to anchor them in place. They help prevent the jawbone from deteriorating.
Partial Dentures: You can get partial dentures if you have a few empty spaces in your smile scattered among otherwise healthy teeth. This will let you eat what you want without difficulty and help you articulate clearly. A special clasp attached to neighboring teeth (or dental implants) hold your partials in place.
Benefits of Dentures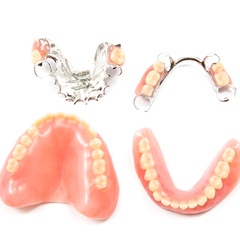 No matter what kind of denture you get, it'll result in a complete and dazzling smile. Your false teeth will be designed with you in mind, so it'll complement your facial structure. Also, well-fitted dentures will stay secure in your mouth, so you won't have to worry about them slipping.
A full set of teeth means you'll be able to eat a wide variety of foods, making it easier to maintain a balanced diet. It'll take a while to get used to chewing with the prosthetics, but this adjustment phase shouldn't take too long.
Caring for Dentures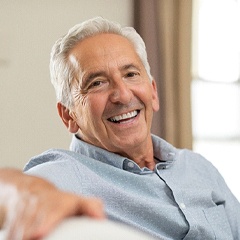 We'll discuss denture maintenance with you when you first receive them. Traditional dentures typically last about 5 to 7 years if you take care of them and will need to be adjusted and relined periodically.
You should clean your dentures at least once a day. (Never use hot water to do so; it can warp the material.) You'll also need to brush your gums, tongue, soft oral tissues and any remaining teeth in your mouth. The goal is to keep bacterial buildup under control so that you can enjoy life with your new teeth without worrying about gum disease.
Call Dr. Philip immediately if your denture breaks or becomes loose. Also keep an eye out for oral sores; they could be a sign that your dentures are rubbing against your gums because they don't fit correctly anymore.
Understanding the Cost of Dentures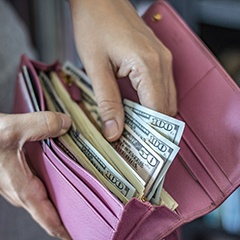 Just like any other dental restoration, the cost of dentures will vary from person to person. There are numerous factors that contribute to the overall price. During your initial consultation, we will determine exactly what you can expect to pay for your dentures in Sunnyvale. Here are some things to keep in mind until then.
Factors that Affect the Cost of Dentures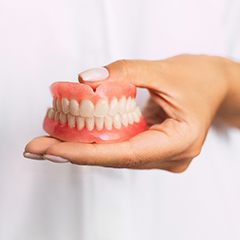 There are a few main factors that contribute to the overall cost of dentures:
The preparatory work needed before you get your restoration will contribute to the amount you pay. This includes treatments like gum disease therapy and tooth extractions.
The materials used to create your dentures, like acrylic and porcelain, will influence their cost.
The number of teeth that you need to have replaced will determine the type of dentures you receive. Generally, the larger the restoration, the higher the cost.
Keep in mind that a cheaper denture doesn't mean a better denture. By opting for budget dentures, you are more likely to require frequent repairs and replacements. When you invest in quality dentures, you will notice the difference.
Are Implant Dentures More Expensive?
Yes, implant dentures cost more than traditional dentures do, but there is a good reason for it. Instead of being supported by the shape and suction of your gums, implant dentures are held into place by a series of dental implants that are placed into the jawbone via a surgical procedure. This allows for numerous additional benefits, like being more lifelike and having additional stability. You won't need to replace your dentures every 5 to 7 years either, as implants are made to last several decades!
Does Dental Insurance Cover Dentures?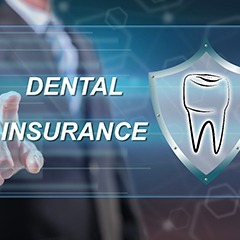 In most cases, you can expect some level of coverage for dentures. Many insurance plans provide up to 50% coverage, but this will vary depending on which plan you have. Our practice participates in the majority of PPO Dental Providers. Give us a call to learn if we accept your insurance plan. Even if we don't work with your provider, we can still file a claim on your behalf. Talk to one of our friendly team members to learn more.
Other Options for Making Dentures Affordable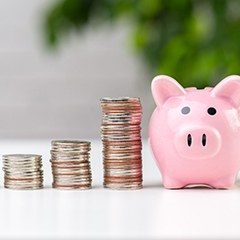 If you don't have dental insurance, this doesn't necessarily mean that you're out of luck. Affordable financing is available through both Mastercard and CareCredit. Our team members would be happy to help you explore options to see which one can best help you in your personal situation. Getting your smile back shouldn't mean stressing over finances.
To learn more about how much you can expect to pay for dentures, contact our office for a consultation. We are eager to help you smile again with confidence!
Denture FAQs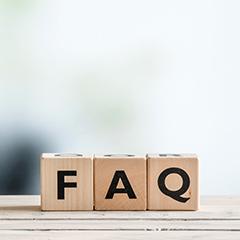 Full and partial dentures in Sunnyvale are a popular way to replace missing teeth and restore confidence. Are they right for you? To help you make your decision, our staff has collected some of the most common questions about dentures and answered them below. If you have any additional questions or concerns, feel free to contact our office!
Is It Hard to Talk with Dentures?
When you first get dentures, you may have a bit of trouble speaking with your new replacement teeth. However, with time, your mouth and tongue will figure out how to pronounce certain sounds. This adjustment period varies from person to person, but generally speaking, the more you practice, the faster the process goes. Reading a book or newspaper out loud to yourself and repeating difficult-to-pronounce words is a good exercise. Speak slowly, as fast speech may come out muffled if you're not used to talking with dentures. If your new teeth need extra stability while you're still adjusting, denture adhesive can help.
What is the Average Age for Dentures?
In general, tooth loss is an issue that is far more common among older patients. According to the National Center for Health Statistics, over 60% of adults between the ages of 40 and 64 are missing at least one tooth, compared to only 33% of adults aged 20 to 39. Thus, you are more likely to need partial or full dentures over the age of 40. However, although the need for false teeth generally increases as you age, people of all ages can potentially be candidates for dentures. Missing teeth can have a negative impact on your oral health, so don't wait to talk to a denture dentist in in Sunnyvale.
Can I Sleep with My Dentures?
We generally recommend taking your dentures out at night when you go to bed. Why? The dark, moist space underneath dentures is an ideal place for bacteria to thrive. For this reason, sleeping with dentures has been found to be associated with a higher risk of pneumonia. In addition, wearing dentures restricts the circulation in your gums, which can lead to tissue irritation and potentially speed up ridge resorption. When you take your dentures out at night, you're giving your gums a chance to recover and get the nutrients they need.
What Can't You Eat with Dentures?
You will have to make some adjustments to your diet when eating with dentures. For example, sticky foods like peanut butter and gummy candies can pull your dentures out of place. Not only does this make them difficult to chew, but it allows food particles to become trapped under the dentures, irritating the gums. Other foods to avoid when wearing dentures include:
Popcorn kernels, shelled nuts, and the sesame seeds on certain rolls can get stuck in and around the dentures and could even damage them.
Nuts, apples, carrot sticks, corn on the cob, and other hard foods can damage or dislodge dentures.
Tough meats like steak and pork chops require lots of chewing, which puts stress on both your dentures and your gums.