Porcelain Veneers – Sunnyvale, TX
Smile Like the Stars
At our Sunnyvale, TX cosmetic dentistry office, porcelain veneers are among the most popularly requested aesthetic dental solutions. Thanks to advanced technology and premium materials, it is possible to craft a beautiful smile with porcelain veneers in a way that looks and feels completely natural. Erase the evidence of damaged and discolored teeth with brilliantly white veneers, and once again smile with confidence.
Benefits of Porcelain Veneers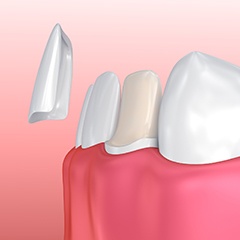 A veneer is a thin shell of dental porcelain that is meticulously shaped and shaded to look just like the front surface of a natural tooth. It is then bonded to the prepared enamel of teeth that are to be covered. Because porcelain reflects light in the same way that tooth enamel does, you never have to worry about your smile looking "fake" or unnatural. In addition, porcelain is highly stain-resistant and durable. Your smile will continue to look amazing for years to come.
Porcelain veneers are an excellent cosmetic dentistry option for patients who are searching for a way to correct numerous aesthetic flaws all at once. In fact, veneers are capable of transforming smiles that are marred by a variety of imperfections, including:
Teeth stains or discoloration
Teeth gaps
Crowded teeth or moderately misaligned teeth
Chipped teeth or cracked teeth
Teeth that appear too long or too short
Misshapen teeth
Your journey toward a new smile with porcelain veneers begins with a consultation with our cosmetic dentist Dr. Philip at our Sunnyvale, TX dental office. During this appointment, we will take the time to really get to know you and your objectives for cosmetic treatment. When we understand your goals and expectations, we can produce better, more personalized results. Some patients prefer to bring a few photographs of smiles they admire for this visit. Our team will work hard to ensure that your new smile reflects your unique personality and complements your other features.
Schedule Your Cosmetic Dentistry Consultation Today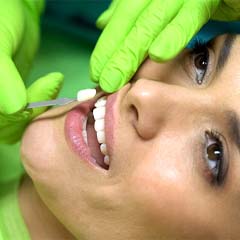 If you frequently feel self-conscious regarding the appearance of your teeth, there is something you can do about it. Contact our office today to schedule a consultation with our team and discover the possibilities afforded by cosmetic dentistry and porcelain veneers. We genuinely look forward to serving you and to helping you achieve a radiant smile you'll be proud to share with everyone.
Our state-of-the-art cosmetic dentistry office in Sunnyvale, TX warmly welcomes patients from throughout the surrounding areas, including Rowlett, Rockwall, Dallas, Garland, Mesquite, Balch Springs, and beyond.