Meet Our Dental Team
Dr. Philip is proud to have the ongoing support of such a personable and friendly staff here in Sunnyvale – he couldn't accomplish so many beautiful smile improvements for patients without them! Every team member is highly knowledgeable about dentistry, has years of experience under their belts, and is looking forward to getting to know you and your family soon. To learn more about them, keep reading below:
Mary, Dental Hygienist
Mary first earned her Bachelor of Science in Biological Sciences at the University of Nebraska-Lincoln before pursuing her Bachelor of Science in Dental Hygiene from the Massachusetts College of Pharmacy of Health Sciences. She additionally earned her Master of Science in Dental Hygiene from Texas A&M Baylor College of Dentistry. Today, she has been working with Dr. Philip since 2010 and considers him the best employer she's ever had. Not only does he provide excellent dental services, but he is a kind and genuine human being as well. She is proud to be able to make a difference in peoples' lives through her position and educate them on the importance of oral health. Building lifelong relationships with patients is always important to her!
In addition to her work at the practice, Mary is a full-time Clinical Assistant Professor at Texas A&M College of Dentistry. She is currently a member of the American Dental Hygienists' Association, Texas Dental Hygienists' Association, and the American Dental Education Association. Her adorable parents have been married for over 40 years, and she has both a older sister and an younger brother. Her hobbies outside of work include practicing holistic health, traveling, doing yoga, and spending quality time with her dog Monkey.
Charleeceya, Dental Hygienist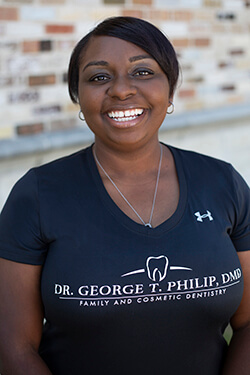 Charleeceya has been working in the dental field for 13 years so far, first joining Dr. Philip's office as a dental assistant in 2005. She also spent time in the front office before finally deciding to attend Texas A&M, earning her Bachelor of Science in Dental Hygiene. Today, she is currently working on an MBA in Healthcare Management from UT Tyler. What she enjoys most about her job is being able to work closely with patients who have dental phobias and help them change those negative emotions with positive experiences in the practice.
Originally from Tyler, Charleeceya is married with two children. Outside of work, she enjoys spending her free time hanging out with family and friends, as well as traveling to new places.
Alejandra, Dental Hygienist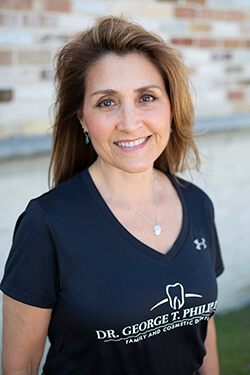 Alex has been working in the dental field for over two decades now, and she loves seeing the smiles of regular and new patients alike coming through the front door – not to mention her happy coworker! She studied at Southwest Texas State University before moving on to Baylor College of Dentistry's Caruth School of Dental Hygiene, earning her Bachelor of Science. She has also received advanced training in oral/facial myology.
Originally from Dallas, Alexandra takes care of her sweet elderly patients at home and has two little dogs. Her interests outside of the dental field include all areas of fine arts, including theatre productions, museums, painting, and watercolor. She also enjoys traveling abroad and going on dental/medical mission trips to Guatemala. In the past, she also lived and worked in Switzerland for two years!
Paige, Registered Dental Assistant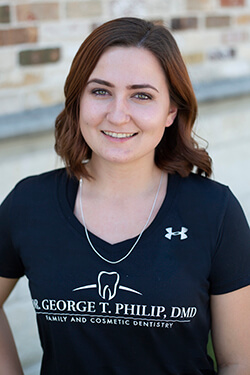 Paige hails from the Forney area originally, and she studied at Elite Dental Assisting School. She's certified in nitrous oxide and CPR. Today, her career in the dental field spans three years and counting. She has a true passion for helping people!
Outside of the practice, Paige has a big, lively family, including a fiancé and an adorable puppy. Her hobbies include boxing, fitness, painting, hiking, camping, shooting, and traveling.