Implant Dentures – Sunnyvale, TX
Get a Smile You Can Rely On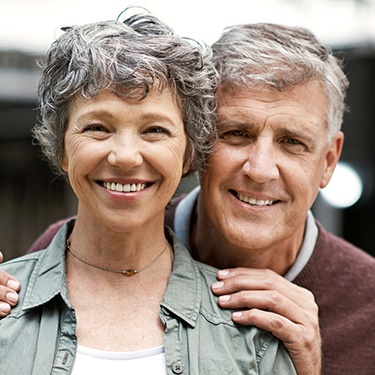 Your dentures were supposed to restore your ability to eat and smile with confidence, but mostly, you find yourself worrying that they'll unexpectedly slip out of place. Wouldn't it be great if you had a set of teeth you could actually trust? That's exactly what Dr. George T. Philip can give you with implant-retained dentures. Whether you already have a denture or need a new one, he can give you a beautiful set of teeth that is guaranteed to stay in place whenever you are speaking with friends or enjoying your favorite food.
How Implant-Retained Dentures Work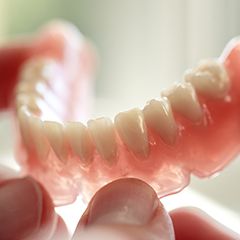 Traditional dentures are held in place using either small clips that attach to neighboring teeth or natural suction directly on the gums. With implant dentures, however, the prosthetic teeth are secured directly to the jawbone using multiple titanium posts that act like tooth roots. This gives the dentures an unmatched sense of stability and security, making them much less likely to move around in the mouth.
Why Patients Love Implant Dentures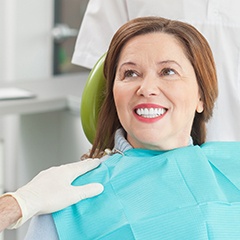 Comfort: Because implant dentures get all of their support below the gum line, the prosthetic itself can be much smaller than a regular denture, helping it fit more comfortably in the mouth.
Bone Retention: Dental implants are able to stop and even reverse the jawbone deterioration that is common after tooth loss. This not only helps the dentures maintain their fit for much longer, but it also helps a patient preserve the overall shape and appearance of their face as well.
Better Bite: Regular dentures restore about 20% of the bite, while implant dentures have been shown to restore a whopping 70%! The end result is that a patient is able to chew a much wider variety of foods with ease, leading to a more enjoyable and healthy diet.
How to Get an Implant Denture
If you're ready to have a confident and secure smile again, all you need to do is contact Dr. Philip for a consultation. At this appointment, he'll give you a brief oral exam and go over what your particular implant procedure will entail. Then, in just a matter of months, you can have a set of teeth that will make you forget you're even wearing a denture! To schedule an appointment or get more information, give us a call today.