Implant Dentures – Sunnyvale, TX
Get a Smile You Can Rely On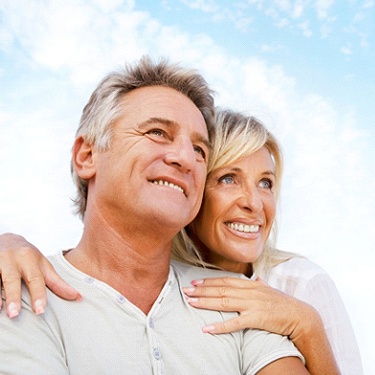 Your dentures were supposed to restore your ability to eat and smile with confidence, but mostly, you find yourself worrying that they'll unexpectedly slip out of place. Wouldn't it be great if you had a set of teeth you could actually trust? That's exactly what Dr. George T. Philip can give you with implant dentures. Whether you already have a denture or need a new one, he can give you a beautiful set of teeth that is guaranteed to stay in place whenever you are speaking with friends or enjoying your favorite food. To schedule an appointment or get more information, give us a call today!
What are Implant Dentures?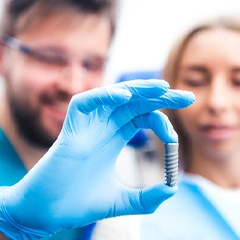 Traditional dentures are held in place using either small clips that attach to neighboring teeth or natural suction directly on the gums. With implant dentures, however, the prosthetic teeth are secured directly to the jawbone using multiple titanium posts that act like tooth roots. This gives the dentures an unmatched sense of stability and security, making them much less likely to move around in the mouth. However, there are multiple types of implant dentures to consider.
Fixed/Permanent Implant Dentures
If you choose a fixed option, you won't need to remove your denture to keep it clean. Instead, only a dentist would be able to remove it. This option is generally reserved for those who have sufficient bone tissue capable of holding several implants.
Removable Implant Dentures
Alternatively, removable implant dentures require far fewer implants to place (and therefore less bone tissue overall). However, they will need to be removed for regular cleaning, which is not necessarily appealing to everyone.
The Implant Denture Procedure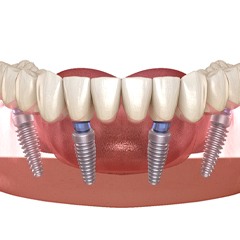 During a dental implant procedure, small incisions are created in the gum tissue so tiny holes can be created. From there, the implants are attached and given several months to heal and integrate. After the implants are fully fused with the jaw, your permanent restoration can be attached, which in this case is a denture. The denture is made from natural-looking materials to ensure your smile looks incredibly lifelike, no matter how severe your tooth loss may be.
Am I a Candidate for Implant Dentures?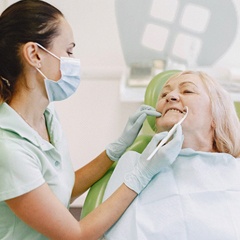 If you're ready to have a confident and secure smile again, all you need to do is contact Dr. Philip for a consultation. At this appointment, he'll give you a brief oral exam and go over what your particular implant procedure will entail. If you have good oral and overall health as well as sufficient bone tissue, he'll get you scheduled for implant surgery at a later date.
Benefits of Combining Dentures & Dental Implants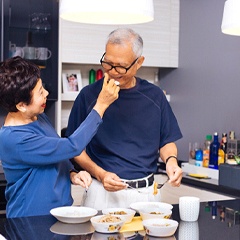 Comfort: Because implant dentures get all of their support below the gum line, the prosthetic itself can be much smaller than a regular denture, helping it fit more comfortably in the mouth.
Bone Retention: Dental implants are able to stop and even reverse the jawbone deterioration that is common after tooth loss. This not only helps the dentures maintain their fit for much longer, but it also helps a patient preserve the overall shape and appearance of their face as well.
Better Bite: Regular dentures restore about 20% of the bite, while implant dentures have been shown to restore a whopping 70%! The end result is that a patient is able to chew a much wider variety of foods with ease, leading to a more enjoyable and healthy diet.