Teeth Whitening – Sunnyvale, TX
Make Your Smile Shine Again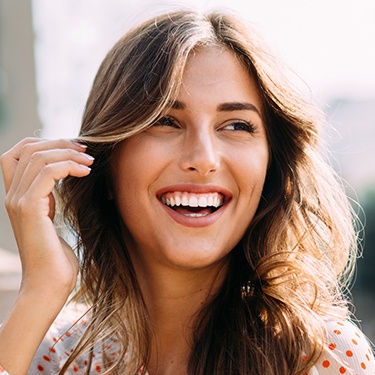 Most adults will notice their teeth getting darker with age. Repeated exposure to highly pigmented foods and beverages like coffee, wine, ripe berries, and even tomato sauce take a toll, and teeth can grow more brittle and less able to defend against stains with time as well. Professional teeth whitening provides a wonderful solution. There are many options available, but Dr. George T. Philip prefers the Pola whitening system for its safe and effective results.
How Pola Whitening Works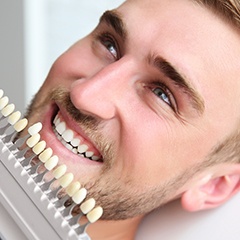 Pola whitening can brighten teeth by up to eight shades on average. This dramatic change can be achieved in a single one hour visit using Pola Office – that means you could pop in on an extended lunch break and return to work with a positively radiant smile!
In-office whitening with Pola is completely safe. First, we cover up your lips, gums, and tongue – anything that isn't your tooth enamel – with a thick shield. Then, we will apply the bleaching gel directly to the teeth that show when you smile. It will be left on for about 8 minutes, wiped away, and then reapplied until we reach your desired level of whitening. Most of the time, patients are happy after just three to four applications.
Alternatively, if you would like to whiten more gradually and in the comfort of home, we can provide you with your own take-home Pola kit. It will contain the bleaching gel and custom-made mouth trays that you can use whenever and wherever you want to brighten your smile.
Pola whitening can remove all manner of dental stains, including:
Darkening due to foods and beverages (coffee, wine, etc.)
Yellow teeth caused by tobacco use
Stains from insufficient dental hygiene
Teeth that appear gray due to medicines like tetracycline
Because teeth whitening can cause sensitivity, we may recommend you brush with an anti-sensitivity toothpaste in the weeks leading up to your treatment.
Maintaining Your Brilliant Results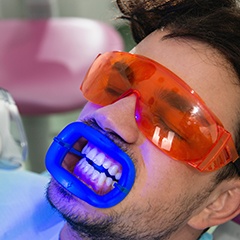 Results achieved with Pola whitening can last for many years with the proper care. Performing daily oral hygiene (brushing twice daily and flossing once a day) will prevent plaque and tartar buildup that can affect the color of the teeth. You should also visit Dr. Philip every six months for a thorough cleaning and polish. If you start to notice your results fading, you can use a Pola take-home kit to reveal your sparkling smile once again.
Some additional tips for keeping your teeth brighter for longer include:
Brushing before drinking wine or coffee, rather than after. It removes the plaque that pigments cling onto.
Eating a handful of almonds or a crunchy stick of celery or carrots in the mid-afternoon to naturally scrub away plaque and bacteria on the surface of the teeth.
Pairing wine with cheese, which strengthens the tooth enamel to help defend against staining.
Rinsing the mouth out with water after eating ripe berries, dark chocolate, or anything else that is likely to stain the teeth.
Quitting smoking or tobacco use.
Understanding the Cost of Teeth Whitening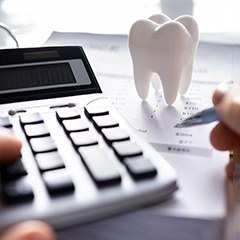 Even if you want it, you may fear teeth whitening is too pricey. A brighter grin, after all, won't do much good if it "breaks the bank." In truth, however, the cost of teeth whitening varies by patient. You'll thus need to consult Dr. Philip for a precise treatment estimate. Regardless of price, though, you can trust our team to guide you through whitening's financial details. To learn more, just keep reading or call us.
Factors That Affect the Cost of Teeth Whitening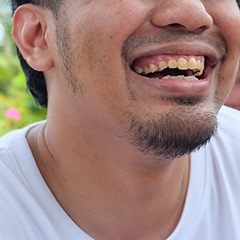 Teeth whitening typically has one set price. Still, some factors affect how many treatments you'll need for desired results. It's a good idea, then, to keep track of them. They are:
Stain Type – Whiteners work better on extrinsic stains, which are caused by foods and drinks. Intrinsic stains – those that occur beneath enamel - need extensive care to remove.
Stain Severity – If your tooth stains are dark and severe, you may need extra whitening sessions. The overall expense would then increase.
Preliminary Work – You may need preliminary procedures before a whitening treatment. (Fillings, crowns, etc.) If so, the final cost will rise.
Types of Teeth Whitening: What Do They Cost?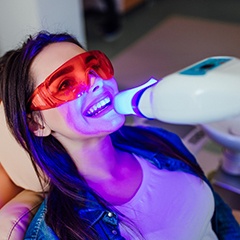 Whitening's price, in fact, also depends on the kind you get. The four types most patients consider are:
In-office Whitening – In-office whitening ranges from $400 to $800. It can, though, cost $1,000 or more in some scenarios.
Take-Home Whitening – Take-home whitening kits involve custom-fit trays and special bleaching gel, so they're usually priced at a few hundred dollars.
OTC Whitening Trays – While they aren't custom-fitted, over-the-counter whitening trays only cost $100 or less.
Whitening Strips & Gels – Teeth whitening strips or gels, being store-bought, are the cheapest option. They cost $20-$40 per box and include enough strips for two weeks of care.
Inexpensive Teeth Whitening vs. Professional Teeth Whitening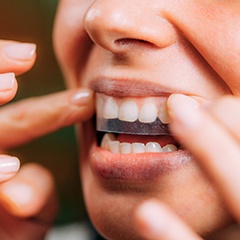 Perhaps you're surprised that professional whitening is so popular. That's only natural – you'd think patients would prefer the more inexpensive choices. Even so, there's a good reason people favor the pro-option.
Ultimately, the quality of treatment results is reflected in the amount you pay. Low-cost procedures, in other words, are less effective compared to high-cost ones. As such, cheap, store-bought strips and gels don't work very well. Meanwhile, expensive whiteners lighten enamel quickly and visibly. It's to the point that professional options can whiten your smile by six to eight shades!
In the future, then, consider the final teeth whitening results. You might not get quality care otherwise.
Options for Making Teeth Whitening Affordable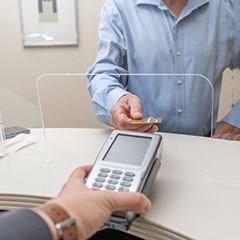 Teeth whitening isn't normally covered by dental insurance. That said, there are other ways to make it affordable. Many dental practices offer a range of helpful financing methods.
Look at our own office, for instance. We offer flexible financing via CareCredit. Through them, you could pay for whitening with monthly, low-interest installments. You'd then be able to cover the cost gradually.
In the end, Dr. Philip and the rest of us can brighten your smile within your budget. So, please book a visit to our practice for more financial details.
Teeth Whitening FAQs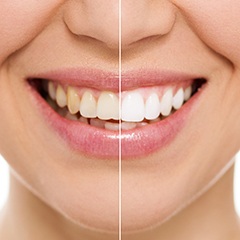 With professional teeth whitening, you can lift years of stains and discoloration from your smile. Whether you choose an in-office or at-home treatment option, you'll be glad to brighten your pearly whites by several shades in no time! That said, it's natural to want to know as much as you can about the procedure before undergoing the process. That's why our team has compiled and answered some of the most frequent questions we get about teeth whitening in Sunnyvale. Keep reading to learn more or give our office a call today to schedule your initial consultation.
Am I a Candidate for Teeth Whitening?
Are you struggling with discolored or stained teeth? If so, then you're most likely a good candidate for professional teeth whitening. Even so, the best way to know if you're eligible for this treatment is by scheduling a consultation with our team in Sunnyvale. We will assess your oral health, discuss your smile goals, and determine if the procedure is the best approach for improving your teeth. If your smile is already strong and healthy, then we can begin developing your personalized treatment plan. However, if there are any developing issues like cavities and gum disease, and then we'll need to address them before moving on to your cosmetic treatment.
Is Teeth Whitening Safe?
When it comes to brightening your pearly whites, there should be no room for error. That's why it's important to only use products that are specifically customized for your smile. If an item hasn't been FDA- and ADA-approved, meaning it's gone through thorough testing, it has a higher chance of actually causing damage to your teeth and gums. The good news is that you can undergo completely safe treatment with professional teeth whitening from your dentist. Not only will you have direct supervision from a dental professional, but your customized procedure will prevent you from accidentally ingesting the bleaching solution or spreading it to your gums.
How Can I Make My Whitening Results Last?
Once your treatment is finished, you can expect to enjoy your beautiful results anywhere between several months to a couple of years. However, you'll have to take good care of your teeth to make the most of their enhanced shade. Here are several ways you can prolong your results:
Implement good oral hygiene (brush twice daily, floss daily, and use mouthwash frequently)
Reduce intake of dark-pigmented foods and drinks (like coffee, soda, and blueberries)
Avoid poor oral habits (such as nail-biting, chewing ice, and smoking)
Visit your dentist every six months for checkups and cleanings
Does Teeth Whitening Hurt?
Some patients are hesitant to undergo teeth whitening treatment because they assume the procedure will be uncomfortable. While this may be valid, our team will ensure your process is completely personalized for your dental needs. This means you should be significantly less likely to feel any sensitivity or discomfort during your treatment. That said, don't hesitate to inform us if your smile is more susceptible to sensitivity, that way we can recommend any necessary steps to make your procedure more comfortable. This may include using specialty toothpaste, spacing out your whitening appointments, or even avoiding hot beverages.