Invisalign® Clear Braces – Sunnyvale, TX
Your Clear Path to a Straighter Smile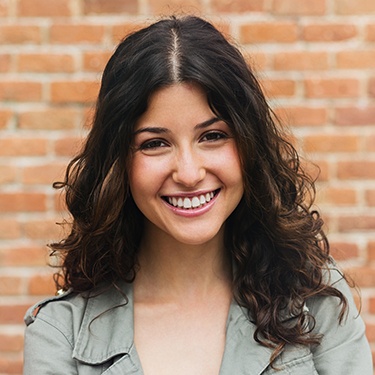 If you've put off orthodontic care because you don't want to wear traditional braces, we have good news for you. Today, it's possible to have a straighter, healthier smile without the need for metal braces. Instead, you can turn to a special cosmetic braces system called Invisalign for help.
Benefits of Invisalign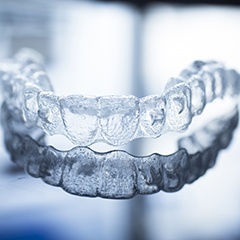 Invisalign makes it possible for you to discreetly move your teeth into their correct positions without drawing attention to your treatment. That's because Invisalign doesn't use metal brackets or wires. Instead, it uses a series of clear, removable trays. Not only are these trays more comfortable and less noticeable, they can be taken out to eat, brush, and floss as well. As a result, you can enjoy your favorite foods during treatment, and you can care for your smile just as thoroughly as you normally would.
Invisalign is often able to deliver final results in much less time than braces as well. Average treatment times range from about 12-18 months, while regular braces tend to average about 2-3 years. Plus, because Invisalign doesn't need to be regularly adjusted and tightened like braces, a patient will only need to come in for progress checks once every six weeks, saving them loads of time over the course of their treatment.
How Invisalign Works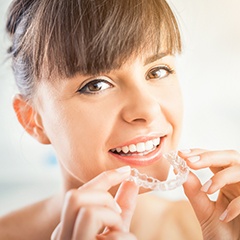 For patients who are interested in Invisalign, everything will begin with a consultation with Dr. Philip. During this appointment, he'll perform a brief oral exam and ask the patient about their specific smile goals. If he believes that Invisalign is the best option for them, he can start the process of designing their trays.
Using a 3D impression of the teeth, he'll create a personalized treatment plan that guides them into their new positions. This plan will then be sent to an Invisalign lab to create a patient's unique series of trays. After a week or two, the patient will return to our office to pick up their trays, and Dr. Philip will show them how to put the trays on as well as maintain them.
Each tray needs to be worn for about 22 hours a day for 2 weeks before progressing to the next one. Basically, the only time someone will take them out is when they are eating or cleaning their teeth. After the two weeks, they'll put in a new set of trays, and that's how the entire treatment will progress. Once a patient has worn all of their trays, that's it! Their treatment is finished, and they should have a perfectly straight set of teeth looking back at them in the mirror. At this point, Dr. Philip will likely have a patient temporarily wear a retainer to ensure their newly shifted teeth stay in place.
Invisalign Provider in Sunnyvale, TX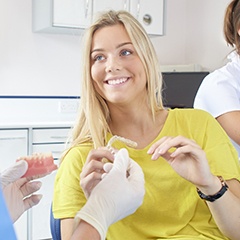 Dr. Philip has been a certified Invisalign provider for years and loves seeing how this modern service transforms the smiles and the confidence of his patients. If you're an adult or teenager, Invisalign may be right for you.
Understanding the Cost of Invisalign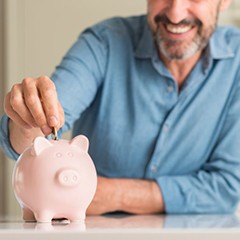 Even if you're looking forward to finally straightening your teeth with Invisalign, odds are you have at least some concerns about the price. Don't worry – our team will make sure to lay out all of the information you need to know ahead of time so that your treatment comes with no unpleasant surprises. The cost of Invisalign in Sunnyvale tends to be quite different from patient to patient, but the following information can be helpful when budgeting for your treatment.
Factors That Affect the Cost of Invisalign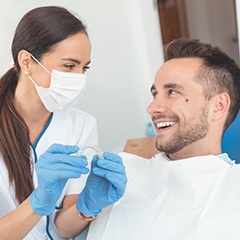 Because so many variables come into play, Invisalign in Sunnyvale rarely costs the exact same amount for two different patients. Until Dr. Philip has had the chance to review your specific case, we can't provide an accurate cost estimate. Some of the main factors that affect the price include:
Number of arches – Most patients need to straighten both their upper and lower teeth, but a select few patients will only need to wear aligners on one of their arches. Fewer aligners worn means a lower overall price of treatment.
Complexity of your teeth's misalignment – The greater distance your teeth need to shift, the longer your treatment will take, and so, the more aligners you'll need. For instance, repositioning several significantly crooked teeth will take longer (and cost more) than closing some minor gaps between a few teeth.
Commitment to treatment – If you don't wear your aligners for the recommended 22+ hours per day, your teeth may not move as quickly as intended. Therefore, you may end up needing to extend your treatment by a few more weeks or months, adding to your total costs.
Invisalign vs. "DIY" Clear Aligners: Which Costs More?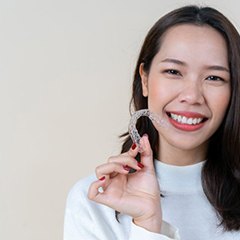 Mail-order clear aligner kits, such as Smile Direct Club™, may seem like an appealing alternative to Invisalign. After all, they typically cost less, and you can handle the whole process at home. However, "do-it-yourself" clear aligners are almost never worth the risk.
When you're responsible for taking your own impressions and wearing aligners on your own, with little to no supervision from a professional, there is all too much room for error. You might end up accidentally moving your teeth in drastically different ways than anticipated. In that case, you would need to see a dentist to have the issue corrected, ultimately costing you more money than if you'd simply gone to an Invisalign dentist in Sunnyvale to begin with.
Does Dental Insurance Cover Invisalign?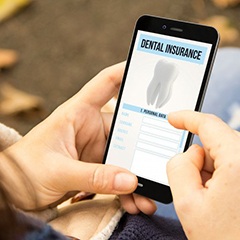 In some cases, dental insurance may partially cover Invisalign, but there are often limits. For example, some plans only cover orthodontic treatment for patients under the age of 18, and some plans cover traditional braces but not Invisalign.
No matter which dental plan you have, our team can help you fully understand your benefits and make sure you're getting the most out of them. Better yet, we're in-network with many of the leading providers, including Delta Dental, Cigna, Aetna, and MetLife.
Options for Making Invisalign Affordable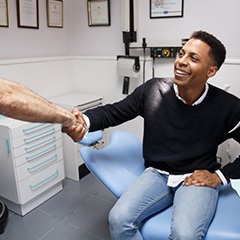 If you're uninsured or your plan lacks sufficient coverage, that doesn't necessarily mean that Invisalign will strain your wallet. At our dental office, we offer flexible financing through MasterCard and CareCredit. That way, your treatment costs can be broken up into smaller installments that more comfortably fit into your budget.
Invisalign Frequently Asked Questions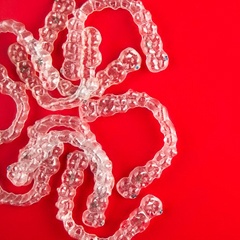 We understand that getting Invisalign is a huge investment in your smile. We also understand that you likely have some questions you want answered before you decide to sink your teeth into this treatment. That's why we've gathered some of the questions we get asked the most often about Invisalign in Sunnyvale and answered them for your convenience.
If I Have Previous Dental Work, Can I Still Get Invisalign?
Possibly! If you have a restoration that only affects one tooth, like a veneer or crown, you may still be able to get Invisalign, since the treatment works to change one small portion of your smile at a time. If you have bridgework, however, Invisalign might not work. Dental bridges are made of several artificial teeth string together, so Invisalign probably won't be effective. Either way, talk to your dentist in Sunnyvale about whether Invisalign is right for you.
How Much Does Invisalign Cost?
In most cases, Invisalign costs about the same as traditional braces. The cost may vary depending on several factors, such as your age, the severity of your dental misalignment, and your dedication to wearing your aligners. However, the good news is that more and more dental insurance companies are beginning to cover Invisalign, at least partially. Talk to your insurance provider to learn more about your coverage options.
I Used to Have Braces, but My Teeth Have Since Shifted. Can I Get Invisalign?
Absolutely! Invisalign can treat many common dental alignment issues, such as teeth shifting back after braces. Many people who once had braces choose Invisalign because they don't want to have to go through the experience of awkward, restrictive metal braces again.
I'm Currently Wearing Braces. Can I Make the Switch to Invisalign?
It depends, but the answer is usually yes. Many doctors are treating patients' smiles with a combination of traditional braces and Invisalign clear aligners. Your best option is to consult with your dentist in Sunnyvale to determine what the best treatment for your smile would be.
Does Invisalign Come with Any Dietary Restrictions?
Not at all! Because Invisalign clear aligners are removable, you can and should take them out whenever you need to eat. Certain foods can get stuck in the wires and brackets of traditional braces, so there is a long list of foods you can't enjoy during treatment. With Invisalign, however, you can eat as much popcorn and caramel as you want. Just remember to brush your teeth before placing your aligners back in!
Do you want to learn more about Invisalign? Call our Sunnyvale dental office to schedule an appointment with Dr. Philip today.