October 3, 2017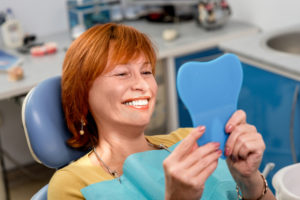 Are you ready to make an investment in your confidence by restoring your oral health with dental implants in Sunnyvale? That is great! They provide you with the next best thing to natural teeth. Offering over a 95% success rate, you can replace your missing teeth with an option that can potentially last forever with the right aftercare, like maintaining your oral hygiene. However, you are a bit hesitant because it does involve a multiphase treatment process. To put your worries at ease, here is what you need to know about the process to complete your smile.

Step 1: Consultation
Prior to beginning the process, you will require a comprehensive consultation with your dentist in Sunnyvale. In addition to evaluating your oral health and tooth loss, your medical history and lifestyle habits will be discussed to ensure that you are a candidate.
Step 2: Preparation
To create a customized treatment plan, diagnostic images are needed, which may include a CT or CAT scan. Depending on the results of the images, you may need additional procedures, like bone grafting. If it is needed, it can take an average of 3 to 6 months before moving onto the next phase of the treatment.
Step 3. Implant Placement
To replace the root of the tooth, a titanium implant post must be surgically placed into the jawbone. The surgery usually takes about an hour or two; however, you will need to spend the next 3 to 6 months healing. This allows the jawbone to fuse to the post to create a secure and stable foundation for the replacement tooth.
Step 4: Abutment Placement
Once you have healed, you will be scheduled to have the abutment placed. This is a minor surgery that involves attaching the abutment, which connects the dental crown to the implant post. After it has been placed, it takes about two weeks for the gum tissue to heal.
Step 5: Restoration
The final step of the process involves getting your restoration. Impressions of the mouth are taken to create your custom-made crown. The images are sent to the dental lab to make it to meet your exact specifications, including the size, shape, and color. This process generally takes about two weeks. After it has been sent back to the office, you will have your second appointment to have the final crown placed to restore your smile.
Complete Your Smile Today
Dental implants provide the opportunity to truly invest in your quality of life and oral health. If you are ready to regain a complete smile, it is time to contact your dentist to schedule a consultation.
About Dr. George Philip
Dr. George Philip is committed to providing high-quality dental care to all patients. To remain current with the most up-to-date dental aspects, he has completed several hours of continued education. Through his diverse training and qualifications, he offers many areas of specialty, including dental implants. If you have any questions about the procedure, please contact our office today to schedule a consultation.
Comments Off

on How Long Does It Take to Get Dental Implants in Sunnyvale?
No Comments
No comments yet.
RSS feed for comments on this post.
Sorry, the comment form is closed at this time.