March 27, 2023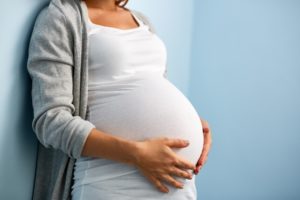 You want to look your best when your little bundle of joy arrives. The last thing you should be worried about when smiling for your first family photos is a missing tooth. Dental implants are a great option to treat tooth loss because they offer the most predictable and reliable results. Not to mention, they can last for decades, but you can't get them while you're pregnant. Here's why it's better to wait until after delivering to fill the gap in your smile.
It Is Safe to Visit the Dentist
Contrary to many rumors, it is perfectly safe to visit a dentist when you're expecting. It's actually encouraged because pregnancy can increase your risk of various oral health issues, like cavities and gum disease.
Routine cleanings and checkups are safe for both mother and baby. You can even have certain dental procedures after your first trimester, like fillings or root canals. However, dental implants require oral surgery, which can place you and your developing baby at risk of certain complications.
Dental Implants Aren't Safe During Pregnancy
You will require oral surgery to place an implant post into your jawbone. Dental sedation will need to be used to keep you comfortable. While certain dental sedatives are safe for expectant mothers and unborn babies, most oral surgeons will advise against dental implants during pregnancy.
Besides concerns about sedation, pregnant women have an increased risk of postoperative complications. Expecting mothers have a higher risk of infections, especially if they have gestational diabetes, which can lead to higher rates of dental implant failure. Not to mention, pregnant women are limited in the types of pain medications that can be used to manage discomfort after surgery.
You Can Start the Process
Although you'll have to wait to have your placement surgery, you can get the process started now. Getting dental implants requires a multi-step treatment process that can take many months. You can jump-start your journey to a complete smile by scheduling a consultation with your implant dentist.
They'll examine your mouth and review a CT scan to ensure you are a candidate for dental implants. They will also look for any issues that must be resolved before moving forward with your placement surgery, like gum disease or tooth decay. Your dentist can perform many preliminary treatments to ensure your teeth and gums are healthy. Your mouth will be ready to go after delivering your child.
While you might have to wait to get dental implants, it's time well-spent to ensure your investment lasts for a lifetime.
About Dr. George T. Philip
Dr. Philip earned his dental degree from the Nova Southeastern University College of Dental Medicine and has regularly continued his education in advanced specialties, like dental implants. He can treat the most complex cases of tooth loss. Dr. Philip is a proud member of many professional organizations, including the American Dental Association. Contact our office through our website or call (972) 961-4105.
Comments Off

on Get the Facts About Dental Implants and Pregnancy
No Comments
No comments yet.
RSS feed for comments on this post.
Sorry, the comment form is closed at this time.