January 23, 2023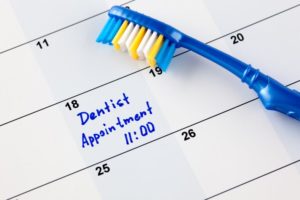 Starting 2023 off right can look a lot of different ways, whether that's spending more time caring for yourself, taking your career to new heights, or other goals you've made. There may be one important visit you're not considering, though! When you schedule your first bi-annual checkup and cleaning with your dentist earlier in the year, you can get the most out of your insurance coverage, have the peace-of-mind of a clean bill of health, and more! Read on to learn four reasons to call your dentist now and schedule your routine cleaning.
Get the Most Out of Your Insurance Coverage
If you have dental insurance, you can receive two 100% covered checkups and cleanings this year, provided they are scheduled six months apart. However, if you wait to plan your visit, your benefits will restart and be lost.
When you schedule your checkup and cleaning early in the year, it will allow you to squeeze in your next appointment six months later, meaning you can receive both of these important preventive visits to keep your oral health on the right track—a truly priceless goal for 2023.
Start the Year Off with a Clean Bill of Health
There's nothing that can provide you with sound peace-of-mind like a clean bill of health, especially knowing that your oral and cardiovascular health are closely linked. At your routine checkup, your dentist will examine your teeth and gums and collect X-rays to allow them to spot any early signs of issues. When you leave your dental office with a clean bill of health, you can rest easier until your next appointment.
Tackle & Ward Off Signs of Gum Disease
Gum disease is one of the most common oral health problems in the United States, estimated to affect one out of every two adults. In its earliest stage, called gingivitis, it can be treated and reversed. However, in its later stage, called periodontitis, it can only be managed to prevent permanent damage to your smile, like tooth loss.
When you visit your dentist every six months, you can make sure that any signs of this common disease are spotted and taken care of before they lead to the need for more extensive treatment, like prosthetics or tooth extractions.
Detect Signs of Oral Cancer Early
At every checkup, you'll receive an oral cancer screening, which will include a visual and tactile examination of your oral tissues, throat, lips, and more, in search of any signs of this deadly disease. The goal is to see the signs early on, drastically improving patient survival rate by ensuring proactive treatment. The process only takes a couple of minutes, but you'll be glad your dentist did it!
Even though the first concern on your mind may not be visiting your dentist, scheduling your checkup and cleaning early in the year can positively impact your mood, health, and overall wellbeing for the rest of the year, making it well worthwhile to shift up your priority list.
About the Author
Dr. George Philip is a proud Texan with decades of experience practicing dentistry under his belt. He has a personal approach to care that helps his patients feel relaxed and calm in the treatment chair, all while providing them with top-tier care. He also takes his time educating patients so they can make well-informed decisions about their smiles. If it has been longer than six months since seeing a dentist, visit his website or call 972-285-6144 to schedule a checkup and cleaning.
Comments Off

on 4 Reasons to Schedule Your Checkup & Cleaning Early in the Year
No Comments
No comments yet.
RSS feed for comments on this post.
Sorry, the comment form is closed at this time.