September 13, 2022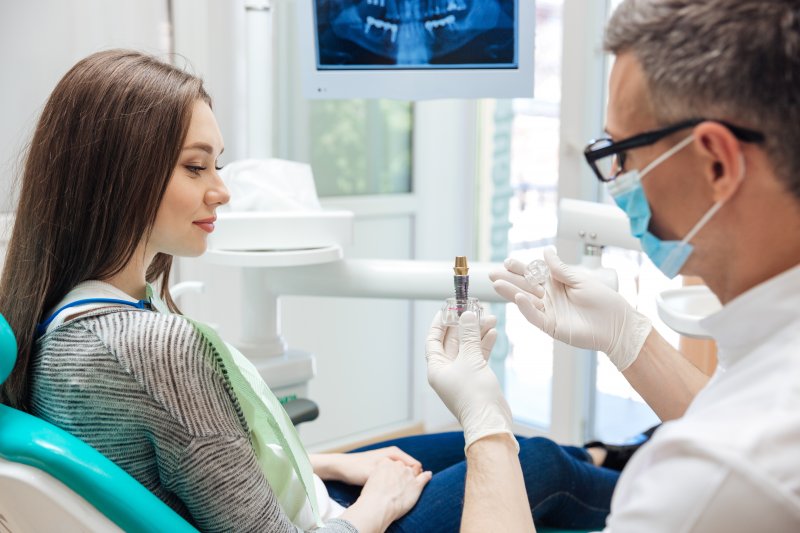 Do you have a tooth extraction scheduled for the near future? As you may already know, you'll have to replace the gap as soon as possible to preserve your jaw and the rest of your smile. Fortunately, dental implants are an excellent tooth loss solution that'll allow you to enjoy a strong and fully functioning bite once again. But how long do you have to wait to replace your missing tooth? Read on to find out when you can get a dental implant and why it's important to do so.
When Can You Get a Dental Implant After a Tooth Extraction?
There are many factors that come into play when figuring out how soon you can get a dental implant after a tooth extraction. Generally speaking, here's what you can expect:
Immediate Implant Placement. If you have sufficient jawbone density and good oral health, you may be able to get a dental implant immediately after tooth extraction. Once it's placed, you'll have to wait for osseointegration to complete, which usually takes about three to six months. Afterward, a custom restoration will be placed to fully restore your smile.
Early Implant Placement. This can occur anywhere from two to three months after tooth extraction. Your gums and supporting tissues may need time to heal before your dentist can place a dental implant. After you've healed, a restoration will be attached to complete your grin.
Delayed Implant Placement. Your dentist may hold off on placing your implant if you're experiencing a compromised oral health condition due to infection or bone loss. You may need a bone graft to promote healthy bone jawbone growth, which can add three to six months to your treatment.
The Importance of Replacing a Missing Tooth
Having a gap in your smile isn't just unsightly – it can lead to serious complications down the line. You may experience difficulty with basic tasks like chewing and speaking. Not only that, but your remaining teeth could shift out of place and risk falling out later on. Because you lack jawbone stimulation, you may have noticeable facial changes and an aged appearance, affecting your speech and self-esteem in the long run. To avoid negative impacts on your health, it's best to replace missing teeth as soon as possible.
If you want to get a dental implant after tooth extraction, ask your dentist about your options. They'll do everything possible to help you maintain your very best smile!
About the Author
Dr. George T. Philip is passionate about helping patients achieve and maintain their healthiest smiles. He enjoys building meaningful relationships with everyone, ensuring you get nothing but the best care possible. If you would like to replace your missing teeth with dental implants, Dr. Philip can do just that. You can make an appointment with him via his website or call (972) 285-6144.
Comments Off

on How Soon After a Tooth Extraction Can I Get a Dental Implant?
No Comments
No comments yet.
RSS feed for comments on this post.
Sorry, the comment form is closed at this time.