August 5, 2022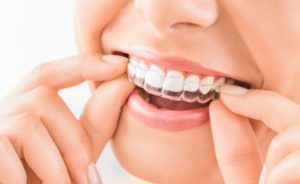 If you've just started Invisalign treatment to correct your crooked teeth, congratulations! A straighter and healthier smile is in your future, and you're probably pretty excited about the means being used to get there. After all, Invisalign is much more discreet, convenient, and comfortable compared to traditional braces. That said, you still might experience some discomfort during your smile's gradual transformation. Here's a closer look at why Invisalign can sometimes hurt, along with a few tips to help you manage your discomfort and keep your treatment progress right on track.
Why Does Invisalign Sometimes Hurt?
It's normal to experience some pain with Invisalign—after all, your teeth are technically being moved and shuffled around inside your mouth! This is the case with all types of teeth alignment; braces and clear aligners alike put pressure on your teeth and in turn, your jaw. This pressure triggers a breakdown in the bone tissue, which then clears the way for your teeth to move. However, this forced movement can naturally irritate the thin and sensitive ligaments around your teeth and the nerve endings inside their roots. But as long as your teeth are moving slowly and under the supervision of a dental professional, the process is completely controlled and totally safe!
Helpful Tips for Managing Your Invisalign Discomfort
There are luckily several things you can do yourself to manage any minor discomfort you might experience while wearing your Invisalign trays. Here are some tips to help you out:
Apply a cold compress – If you're experiencing swelling or inflammation, a cold compress placed against the outside of your cheek for 10 minutes at a time can provide relief. Sometimes even sipping cold water can help!
Take over-the-counter pain medication – The discomfort caused by wearing your aligners isn't too different from a headache, meaning that pain relievers can be used accordingly to provide relief.
Avoid hard and crunchy foods – Even though Invisalign isn't accompanied by any dietary restrictions, you shouldn't eat anything while wearing your Invisalign aligners. That said, minding your diet and avoiding hard, tough-to-chew foods will give your sore mouth some much-needed reprieve.
Utilize orthodontic wax and Invisalign Chewies – Orthodontic wax is particularly useful if your Invisalign is accompanied by attachments; the wax can be applied to cover anything poking, prodding, or causing discomfort inside your mouth. Invisalign Chewies are soft, chewy sponges that help your aligners to fit more snugly.
Switch to your new aligners before bedtime – When it's time to change to your next set of trays, consider swapping before bedtime, so you're sleeping through the initial discomfort of wearing new trays.
Visit your dentist regularly – You should continue to maintain a routine of regular dental checkups throughout your treatment. This allows your dentist to detect any existing problems before they have the chance to derail your teeth's progress. These visits also give you a chance to voice any concerns you have about your aligners and the discomfort they may be causing.
If your Invisalign trays are causing you discomfort, don't worry—this pain is only temporary and a natural part of your teeth's gradual transformation. That said, knowing what's at work inside your mouth and following these tips will help ensure that your new smile is effortlessly and painlessly manifested.
About the Author
Dr. George T. Philip and his team are committed to providing an exceptional level of dental care for patients and families in the Sunnyvale, TX community. Dr. Philip received his dental doctorate from the Nova Southeastern University College of Dental Medicine and is a member of the American Dental Association, the Texas Dental Association, and the prestigious Academy of General Dentistry. If you have any questions about Invisalign or would like to arrange a visit, feel free to contact Dr. Philip through his website or by phone: (972) 285-6144.
Comments Off

on Helpful Tips for Easing Your Invisalign Discomfort
No Comments
No comments yet.
RSS feed for comments on this post.
Sorry, the comment form is closed at this time.