February 16, 2022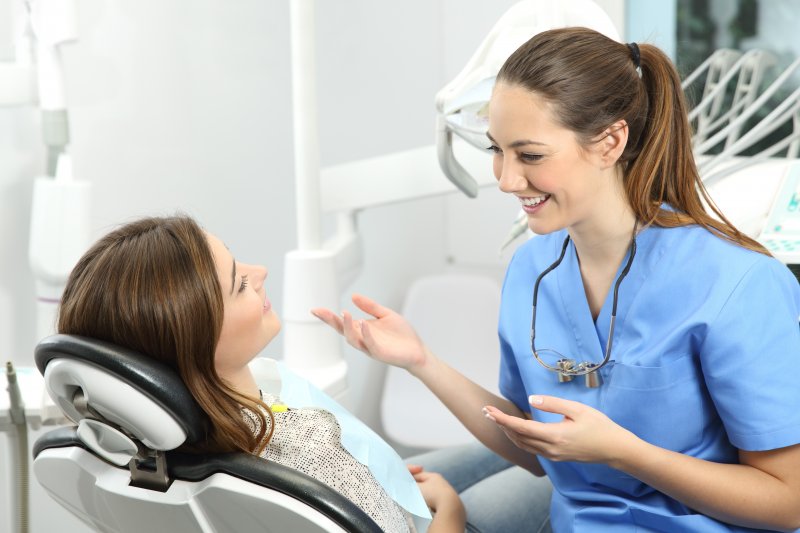 Dental crowns are tooth-colored caps that can be made from a variety of materials, including metal, porcelain, resin, and ceramic. They are often used to repair a tooth that has just undergone a root canal procedure or for other situations when a filling isn't sufficient. Your dentist color-matches your restorations so that they blend in with the rest of your smile, but how do they determine what the correct shade is? Read on to learn about why teeth are different colors and how your dentist can perfectly match your dental crowns to your other pearly whites.
Why Are Teeth Different Colors?
Though you may think that all a person's teeth would be the same color, one mouth can contain pearly whites in various shades. This usually occurs when existing fillings, crowns, or other dental work become discolored over time. Drinking coffee, tea, red wine, and cola or eating highly pigmented foods like berries can also cause inconsistency in the color of one's teeth due to staining. Though this can make it harder to choose the right shade for dental crowns, your dentist will likely match the restoration to the adjacent tooth.
How Dentists Pick the Right Color
Since picking a color that is even slightly off from the adjacent teeth can make your dental crown stick out, they will take their time choosing the proper shade to make sure it's matched as closely as possible. Many dentists use a shade guide to make this easier. These metal or plastic cards feature rows of porcelain teeth in a multitude of hues so your dentist can hold them up to your teeth to determine which one is the best match.
How Can Dentists Create Custom Tooth Shades?
There are several ways that your dentist can create a custom shade that's color-matched to your smile as closely as possible, including:
Natural light – Just like with hair and eye color, the shade of your smile will look different depending on the lighting. Using natural light will allow your dentist to get the color as close as possible.
Analyzing images of adjacent teeth –Your dentist may take photos of the teeth that are adjacent to the one receiving the crown so they can analyze their color for a better match.
Controlling color contrast –Bright lipstick can make it harder for your dentist to focus on the color of your teeth, so they may use a gray apron or ask you to remove it.
Though choosing the correct tooth shade may not seem that important, it can make or break the look of your smile. By choosing the correct color, your dentist will be able to ensure that your smile looks healthy, realistic, and as lovely as ever!
About the Author
If you have severely damaged or decayed teeth that require treatment, Dr. George T. Philip and his talented Sunnyvale team can help with versatile, durable dental crowns. He has been serving patients with the compassionate care they deserve from his inviting dental office since 2004 and takes pride in repairing pearly whites for healthier, happier smiles. Are you interested in making an appointment with Dr. George T. Philip or do you want more information on how dental crowns work? If so, visit his website or call his office at (972) 285-6144 to begin your journey towards a more gorgeous grin.
Comments Off

on How Dentists Color-Match Dental Crowns
No Comments
No comments yet.
RSS feed for comments on this post.
Sorry, the comment form is closed at this time.