July 6, 2021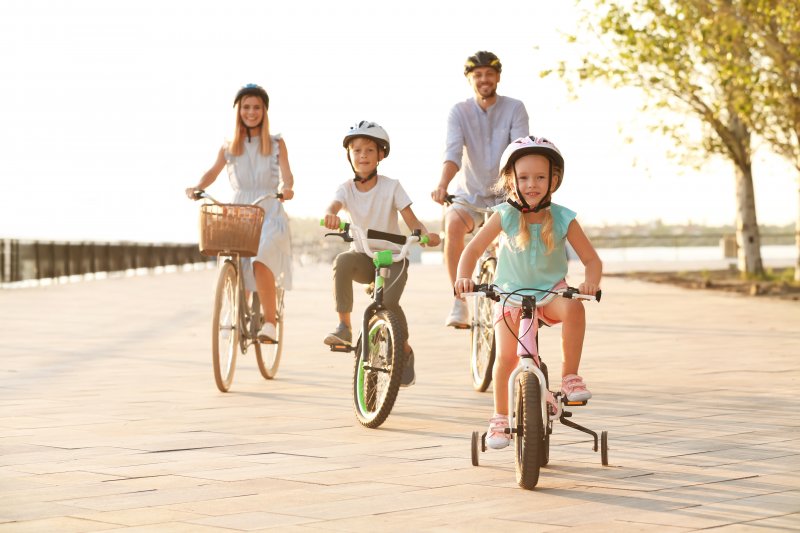 School's out and the sun's blazing – summer is officially upon us! Your family may be looking forward to a season jam-packed with exciting adventures. Unfortunately, some of our favorite traditional activities can result in a damaged smile if proper precautions aren't taken. Your Sunnyvale dentist shares a few ways you can harm your teeth this season and how to protect them.
Icy Treats
Ice cream, popsicles, and snow cones are tasty ways to cool down in hot weather. However, these summer staples can cause discomfort if you have sensitive teeth. Sensitivity could indicate cavities or exposed tooth roots, both of which can happen because of tooth decay.
If you're struggling with this sensation, avoid whitening toothpaste, using a hard-bristled toothbrush, and foods that can crack your teeth (i.e., hard candy, nuts, ice cubes) as they can worsen sensitivity. To help alleviate your discomfort, contact your Sunnyvale dentist right away to determine the cause and treat the problem.
Sweet Drinks
While lounging by the local pool, it's intriguing to reach for a lemonade, sweet tea, sports drink, fruit juice, or soda. Unfortunately, these drinks contain unhealthy amounts of sugar that can leave a lasting mark on your oral health. Bacteria like to feed on these sugars, producing harmful acids that wear down your enamel. Overconsumption can lead to tooth decay, cavities, and even increase your risk of heart disease and diabetes.
To keep your mouth safe, limit your intake of sweet and acidic beverages. If you must indulge, minimize exposure to your teeth by using a straw or drinking quickly. Then, thoroughly rinse your mouth with water afterward to wash away any residual sugars. But remember – the best way to prevent damage is to opt for water whenever possible. It's the most beneficial drink for your mouth and body!
Seasonal Sports
Most people like to spend their days outside, soaking up the summer sun and relishing the beautiful weather. But traditional sports and activities, such as baseball, biking, swimming, skateboarding, and much more, can put your oral health at risk. One blow to the face could easily result in teeth, mouth, and gum injuries.
Prevent these accidents by wearing a mouthguard to minimize damage to the mouth and jaw if an injury were to occur. They can be purchases at most sports-good stores or can be custom-made to fit your teeth perfectly. By requiring everyone to use a mouthguard, your family can comfortably and safely join in all the fun.
Your family's oral health doesn't have to suffer at the expense of an exciting vacation. By using these tips, everyone can still partake in their favorite summer activities – without putting their smile at risk!
About the Author
Dr. George T. Philip is a Texas native who provides personalized, world-class dental care the entire family can enjoy. Since earning his Doctor of Dental Medicine degree in 2003, he's consistently taken continuing education courses to provide patients with the latest dental treatments available. To ensure your family's smiles are healthy and ready for summer, visit our website or call (972) 285-6144 to schedule dental checkups with Dr. Philip.
Comments Off

on Watch Out! These Summer Activities Can Damage Your Smile
No Comments
No comments yet.
RSS feed for comments on this post.
Sorry, the comment form is closed at this time.