June 14, 2021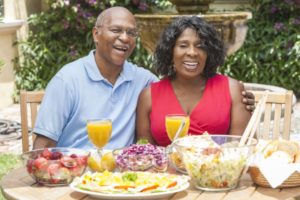 Are you one of the estimated 178 million Americans who are missing at least one permanent tooth? If so, then you might be researching your best options for completing your smile. When it comes to tooth replacements, dental implants have taken the world by storm because of their numerous incredible benefits. Plus, there's no better time to start rebuilding your smile than summer! Keep reading to learn four reasons why summer is the perfect time to get dental implants in Sunnyvale, TX.
1. Eat All of Your Favorite Foods
Regular dentures are notorious for shifting around in your mouth, forcing you to abstain from delicious chewy or crunchy foods. This is because dentures only replace the parts of your teeth that you can see. Dental implants take it one step further by recreating the roots of your teeth, which are hidden beneath the gums. As a result, implants restore almost all of the biting and chewing power that you had before tooth loss. With dental implants, eating all of your favorite summer foods should be a breeze!
2. Smile Confidently
If you have gaps in your grin, you might instinctively shy away when someone pulls out their phone to snap a picture. Dental implants look remarkably natural; when people look at your smile, they shouldn't even be able to tell which teeth are real and which are implants! By replacing your missing teeth with this lifelike solution, you'll be able to confidently show off your pearly whites at all of your summer get-togethers.
3. Maintain a Youthful Glow
After tooth loss, the muscles in your face eventually begin to sag and wrinkle. This occurs because the tooth roots are no longer there to stimulate the jawbone, causing it to weaken over time. Because dental implants function as tooth roots, they can prevent and even reverse jawbone loss. You'll look young and vibrant all summer long!
4. Enjoy a Long-Lasting Tooth Replacement
Your dental implants will actually last for much longer than just this summer. They're made from biocompatible materials that let them fuse with the jawbone. Not only does this create a reliable foundation for your replacement teeth, but it allows the implants to last for 30+ years. If you take good care of your oral health and hygiene, your implants might even last for the rest of your life!
There's no time like the present to bring back your missing teeth. Talk to your dentist to find out if dental implants are right for you!
About the Author
Dr. George T. Philip is a family dentist in Sunnyvale, TX with more than 15 years of experience in the field of dentistry. He earned his Doctor of Dental Medicine degree from the Nova Southeastern University College of Dental Medicine in Ft. Lauderdale, FL in 2003. Today, he partners with a network of skilled professionals who are experts on dental implants in Sunnyvale. To learn more about whether this treatment is right for you, you can reach out to Dr. Philip by visiting his website or calling (972) 961-4105.
Comments Off

on 4 Reasons Why Summer Is the Best Time to Get Dental Implants
No Comments
No comments yet.
RSS feed for comments on this post.
Sorry, the comment form is closed at this time.