April 22, 2021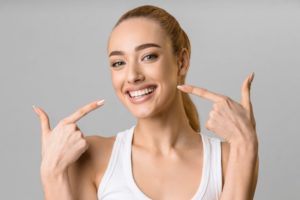 Are you one of the over 120 million Americans missing at least one tooth? If so, you may be all too familiar with the way that it's negatively impacted your life AND your self-esteem. It's difficult to feel good about yourself when you're afraid to smile due to missing teeth or an uncomfortable denture. Thankfully, dental implants can restore your missing teeth and your confidence! How? Read on to learn the answer!
First, What Are Dental Implants?
Dental implants are tiny posts that are surgically placed in the jawbone to act as artificial tooth roots. They fuse to the jawbone to become a permanent part of the body. This is the only replacement solution that restores the teeth from the roots up for the most natural look, feel, and function. The best part is that they can be used to replace one tooth, multiple teeth, or even an entire smile.
The Power of Dental Implants
Here are the most significant ways that implants improve confidence:
Restore Your Smile
Hiding your grin due to gaps or a loose prosthetic lowers your self-esteem whether you know it or not. However, dental implants look just like your natural teeth, allowing you to show off your smile in any social or professional setting without any anxiety.
Look Younger
When you lose teeth, your jawbone slowly deteriorates because it's no longer getting enough stimulation. Dental implants are the only replacement that stimulates the jawbone to prevent it from shrinking over time. This not only maintains the natural teeth you have left, but it keeps your facial appearance full and youthful. Without dental implants, the decreasing jawbone will eventually cause a more sunken and wrinkled face.
Easily Eat & Speak
There's nothing worse than speaking in public only to have your denture slip and slide around, making it uncomfortable and embarrassing. You also may avoid certain foods or eating with friends and family altogether because of your ill-fitting dentures. However, dental implants are firmly rooted in the jawbone, giving you the power to eat all your favorite foods with ultimate confidence. Additionally, you won't have to ever worry about a prosthetic or missing tooth impacting your speech.
Look Forward to the Future
No other tooth replacement has a success rate of 95% even after 10 years. Additionally, dental implants can last for over 30 years with proper care. This gives you peace of mind when choosing this option and the confidence to smile for years to come. Plus, they'll save you money from avoiding replacements down the road!
Ready to get the confidence boost you've been needing? It's as easy as contacting your dentist to schedule a dental implant consultation. A better smile and a better life is right around the corner!
Meet the Dentist
Dr. George T. Philip is an experienced dentist who partners with highly trained dental implants specialists in Sunnyvale to provide you with the best treatment available. He loves blending art and science to provide his patients with custom-made, lifelike restorations. To schedule an appointment, he can be reached through his website or by phone at (972) 285-6144.
Comments Off

on Boost Your Confidence with Dental Implants!
No Comments
No comments yet.
RSS feed for comments on this post.
Sorry, the comment form is closed at this time.