March 7, 2021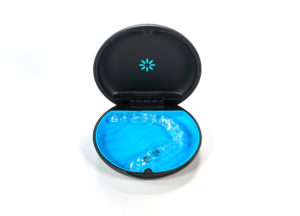 When it comes to straightening teeth, Invisalign clear braces offer a unique and convenient experience. Instead of wires and brackets, treatment consists of wearing a series of clear-plastic, low-profile trays that gradually correct your bite. Still, Invisalign treatment can be challenging at times. While everything can go super smooth when you're at home, traveling with the clear aligners can be tricky. Thankfully, there are steps you can take to make your life easier. Continue reading to get some helpful and simple travel tips!
Pack Carefully
To prevent any last-minute rushing, it's best to pack the essentials early. The following items should be on your checklist:
Travel toothbrush – Every time you eat a meal or consume a darkly pigmented beverage, you'll need to remove and clean your aligners before reinserting them. If you're flying, be sure to pack a toothbrush in your carry-on bag and suitcase.
Dental floss – To ensure your teeth are thoroughly cleaned, you'll need to have some dental floss on hand. If you'll be pressed for time while traveling, it's okay to cut back to flossing once a day.
Mouthwash – It helps to have a bottle of mouthwash handy when you can't brush or floss your teeth after a meal. If you're flying, check with the airport beforehand to find out what the requirements are for transporting liquids.
Extra Aligners – Will you be away for more than two weeks? If so, you'll need to pack extra aligners so that you won't have any treatment lapses that could delay achieving your desired results.
Maintain Your Routine
It's vital that you pack the right items for your trip, but that's not everything. To stay on track with your treatment schedule and prevent any oral health issues, it's important to stick to your dental hygiene routine. If you're only able to floss once a day, be sure to do so before retiring for bed, as this is when the greatest number of bacteria are typically present in your mouth.
It's also crucial that you follow the protocol of wearing Invisalign in Sunnyvale for at least 20-22 hours each day. That means you'll have to follow a more structured eating and drinking schedule. It's well worth a little extra effort, though, as it will ensure that you stay on the road to a healthier, more functional and attractive smile.
Schedule a Visit Before Leaving
If you have a budding oral health issue, it's much better for your dentist in Sunnyvale to catch it before heading out for your big trip. Schedule a preventive care visit, at least a week before your excursion, so that you can enjoy greater peace-of-mind while traveling.
By taking these proactive steps, you can achieve the smile you've always wanted while still being able to lead a normal and fulfilling life!
About the Author
Dr. George T. Philip is a graduate of Nova Southeastern University College of Dental Medicine in Ft. Lauderdale, Florida. Since entering the dental field, he has remained eager to further expand his knowledge, taking several hours of continuing education courses annually. Dr. Philip offers Invisalign and preventive care at his private practice, and he can be reached for more information through his website.
Comments Off

on Traveling with Invisalign? This Will Make It Much Easier
No Comments
No comments yet.
RSS feed for comments on this post.
Sorry, the comment form is closed at this time.