January 11, 2021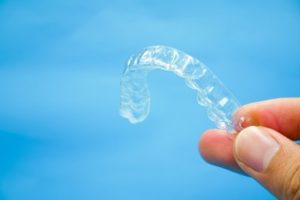 If you would like a straighter smile, you're not alone. Studies show that 80 percent of American adults don't like their smiles. If you're considering getting Invisalign in Sunnyvale, you might be wondering if any previous dental work you've had could affect your results. If you have dental restorations, keep reading to learn how they could affect your Invisalign treatment.
Using Invisalign After Crowns
Invisalign can be a great orthodontic treatment for people with crowns. Because Invisalign trays are removable, they don't cause any issues with prosthetic dental restorations. Clear aligners don't have to adhere to the teeth or dental crown, and they can be inserted and removed without causing damage. Your dentist may still install a clear attachment to protect your crown, even with Invisalign. However, if your smile is severely crooked, it is unlikely that you would be a suitable candidate for Invisalign. This means that your only option would be to get fixed braces.
Using Invisalign After Dental Implants
If you already have dental implants, you can still be a candidate for Invisalign. But typically, most dentists will recommend getting Invisalign before dental implants. Doing this gives the dentist more flexibility when designing your smile so they can place the implant in the proper position. However, there may be certain exceptions if it is determined that you don't have enough bone support or your jaw may deteriorate by the time you receive your dental implant. In this case, your dentist may move forward with placing the implant and plan your Invisalign treatment afterward.
Using Invisalign After Veneers
Porcelain veneers are a cosmetic treatment used to create a flawless smile, but they are not used to correct dental misalignments or the position of teeth. They are placed on top of your teeth to hide imperfections and create a perfect smile. Sometimes, misalignments that result in jaw pain or other dental issues become more noticeable after a patient has received veneers. If your goals are to correct your bite for comfort and good dental health, Invisalign is an excellent option.
Straightening your teeth is absolutely possible when you have dental restorations like veneers, crowns and dental implants. After getting veneers, misalignment issues that cause jaw pain and other dental issues can become more noticeable. Invisalign is a great choice to correct these issues, as long as your orthodontic needs are minor. But if you're not sure whether you are a candidate for clear aligners, your dentist in Sunnyvale can help.
About the Author
Dr. George Philip is a lifelong resident of Mesquite, Texas and is dedicated to providing the citizens of Mesquite with high-quality dental care. He received his Doctor of Dental Medicine in 2003 from the Nova Southeastern University College of Dental Medicine in Ft. Lauderdale, Florida and has been transforming smiles ever since. Dr. Philip stays abreast of the latest techniques and treatments in dentistry through continuing his education courses. His services range from preventive dentistry to cosmetic treatments like metal-free restorations and Invisalign clear braces. If you're ready to straighten your smile, contact the office at (972) 285-6144 or visit the website to schedule your visit today.
Comments Off

on Can Invisalign Help Straighten Dental Implants, Crowns and Veneers?
No Comments
No comments yet.
RSS feed for comments on this post.
Sorry, the comment form is closed at this time.