October 22, 2020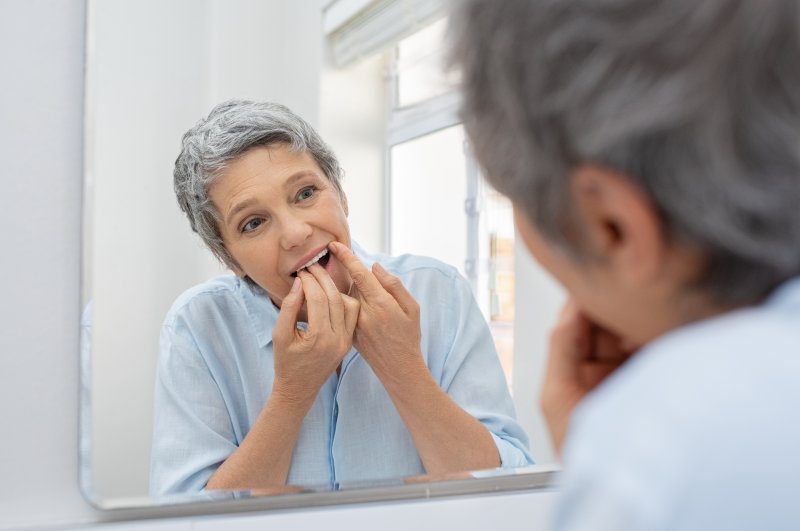 Dental implants are state-of-the-art tooth replacement options that hold an impressive 95% success rate, are extremely life-like, and can prevent bone loss by stimulating your jawbone. Plus, they can last 20+ years with proper care! Therefore, it is of the utmost importance that you implement a proper, consistent oral hygiene routine, which includes flossing daily. If you are unsure how to floss around your dental implants in Sunnyvale, then keep reading for three tips.
3 Tips for Flossing with Dental Implants
No oral hygiene routine is complete without flossing, especially if you have dental implants. After all, this simple dental care practice can remove stubborn plaque and food particles that can wreak havoc on your oral health and help prevent infection. So, if you aren't already, make sure to implement the below tips for flossing with dental implants:
Gently floss to prevent bacteria from entering the gum pocket.
Floss around each implant post and between the bridgework and natural gums with a floss threader.
Follow your dentist's instructions regarding flossing best practices, and don't hesitate to ask questions if you are unsure how to do so properly.
4 Additional Oral Hygiene Best Practices
Alone, flossing consistently may seem small. However, combined with other best practices, it can play a crucial role in ensuring your dental implants are successful in the short and long-term. Therefore, make sure to include the following oral hygiene tips into your routine:
Gently brush each surface of your dental implants and natural teeth to remove food particles, plaque, and bacteria.
Avoid sugary foods and beverages, like soda and candy.
Drink plenty of water.
Eat a vitamin-rich diet.
How Your Dentist Can Help
Even after your dental implants are placed and your recovery is over, your dentist will continue to be an important part of the state of your dental implants. In addition to keeping them in pristine condition through professional cleanings, they can also teach you the proper technique for flossing your new and improved smile. Plus, they can provide product recommendations that will make the process seamless!
Like your natural teeth, dental implants rely on a solid flossing routine to stay clean. Therefore, make sure to never wrap up your oral hygiene regimen without reaching for your floss!
About the Author
Dr. George T. Philip completed his undergraduate degree at Texas Christian University before earning his Doctor of Dental Medicine degree from the Nova Southeastern University College of Dental Medicine. Over fifteen years later, he has helped countless patients rebuild and maintain their smile with dental implants. If you are looking for a dentist in Sunnyvale or have questions about flossing dental implants, visit his website or give him a call at 972-285-6144.
Comments Off

on How to Floss Around Your Dental Implants
No Comments
No comments yet.
RSS feed for comments on this post.
Sorry, the comment form is closed at this time.