September 27, 2020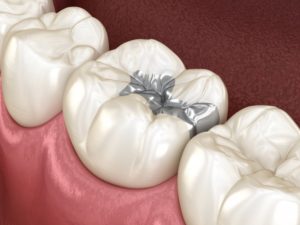 Tooth decay is an incredibly common issue. The Centers for Disease Control and Prevention report that over 90% of adults have had at least one cavity, and one in four currently have untreated tooth decay. In the past, the only way to repair cavities was with silver (amalgam) fillings. While these metal restorations are durable, researchers are beginning to discover that they may have a dangerous effect on your health. Your Sunnyvale dentist explains why it's important to replace your silver fillings and why tooth-colored fillings are the ideal alternative.
What Are Dental Fillings in Sunnyvale Made of?
Traditional amalgam fillings utilize a mixture of silver, copper, tin, and other metals to fill in the damage caused by tooth decay. Once hardened into place, they can easily withstand the pressure that comes with talking and eating. Modern dental fillings are crafted from composite resin instead. This material contains particles of dental plastic, glass, and ceramic to form a putty-like substance. While both options are a reliable way to restore the strength and function of teeth suffering from cavities for many years, read on to find out why dental and health experts recommend one over the other.
What Are the Disadvantages of Metal Fillings?
Metal fillings have several drawbacks in both the short- and long-terms, such as:
Highly noticeable appearance: The shiny metallic appearance of a metal filling is very noticeable and can leave you feeling self-conscious about your smile.
Can damage enamel over time: Metal changes size when exposed to very hot or cold temperatures, which can cause microfractures in the enamel and weaken teeth.
Often causes tooth sensitivity: Since amalgam fillings don't adhere to natural tooth structure very well, they can often lead to tooth sensitivity over time.
Typically contains small amounts of mercury: Although the Food and Drug Administration reports that amalgam fillings are save, some studies have found that having eight or more metal fillings can significantly increase the mercury level sin the blood.
What Are the Benefits of Tooth-Colored Fillings?
Thankfully, amalgam isn't the only type of filling material available anymore. There are plenty of reasons to choose tooth-colored composite resin fillings over metal ones, including:
Seamless results: Composite resin can be shaded to match the color of your natural teeth, which makes them practically indistinguishable from the rest of your smile.
Preserve healthy tooth enamel: Thanks to their pliable nature and ability to bond to natural tooth structure, little to no healthy enamel needs to be removed to place tooth-colored fillings.
Effectively seal out bacteria: Tooth-colored fillings form a tight seal with enamel and don't react to temperatures, allowing them to reliably protect the sensitive layers of your teeth.
A great choice for sensitive smiles: As a 100% metal- and mercury-free restoration, tooth-colored fillings are the best choice for those with metal allergies or sensitivities.
If you have silver spots in your smile, it's time to replace your metal fillings. Schedule an appointment with your Sunnyvale dentist today to have them swapped out for healthier and more lifelike tooth-colored fillings.
About the Author
Dr. George T. Philip has been serving smiles of all ages in Sunnyvale, TX for 17 years. He is constantly pursuing and completing continuing education in a variety of advanced topics so he can offer his patients the most effective and comfortable treatments available. With tooth-colored fillings, he's proud to help his patients restore the health, function and appearance of their pearly whites. If you're interested in replacing your metal fillings, don't hesitate to reach him via his website or at (972) 285-6144.
Comments Off

on Why Should I Replace My Metal Fillings?
No Comments
No comments yet.
RSS feed for comments on this post.
Sorry, the comment form is closed at this time.