August 11, 2020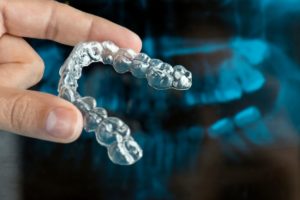 One of the main reasons why you chose to straighten your teeth with Invisalign instead of traditional braces was because the former is usually able to align your smile much more quickly. Recently, though, you've been noticing gaps between your aligners and your teeth. After some research, you learned that this is a common sign that your aligners aren't properly shifting, or "tracking," your teeth. If you don't promptly correct this issue, it could cause your treatment to take much longer than originally planned. Here are four tips to help you get back on track with your Invisalign in Sunnyvale.
1. Seat Your Aligners with Invisalign Chewies
Invisalign "chewies" are soft, flexible rolls that sort of look and feel like earplugs or cotton rolls. After you've brushed your teeth and put your aligners back in, chew on one of these chewies for a few minutes. It essentially forces your aligners into the proper position over your teeth. This can be particularly important after you've just switched to a new pair of aligners, as they're likely to fit more tightly.
2. Wear Your Aligners Often Enough
If you don't wear the aligners for at least 20 (preferably 22) hours a day, your teeth won't shift as quickly as they should. This can cause delays in your treatment, making you have to wait even longer to enjoy the benefits of a straight smile. Wear your aligners often. Basically, you should only remove them to eat, drink, brush, and floss.
3. Ask Your Dentist About "Backtracking"
"Backtracking" is when you wear your previous set of aligners instead of your current ones, at least until your teeth have sufficiently shifted. However, don't do this without first getting your dentist's approval.
4. Schedule an Appointment for an Invisalign Treatment Revision
Sometimes, your teeth may simply not be moving as quickly as your original treatment timeline predicted. If this is the case, you might have to see your dentist. They can evaluate your mouth and adjust your treatment plan accordingly. You may need to receive new aligners or Invisalign attachments to help move your teeth into their desired positions.
Even if your aligners aren't "tracking" the way they should, you can still get your treatment finished in a timely manner. By keeping these tips in mind and communicating with your dentist, you can ensure your treatment will be done before you know it!
About the Author
Dr. George T. Philip is a dentist in Sunnyvale, TX who earned his Doctor of Dental Medicine degree in 2003 from the Nova Southeastern University College of Dental Medicine. He strives to meet all his patients' dental needs in one place. He does this by taking ample continuing education courses so that he is able to provide a vast array of treatments, including Invisalign. If your Invisalign treatment isn't tracking correctly, you can contact Dr. Philip's office by calling 972-285-6144.
Comments Off

on Falling Behind on Your Invisalign Timeline? Here Are 4 Tips to Get You Back on Track
No Comments
No comments yet.
RSS feed for comments on this post.
Sorry, the comment form is closed at this time.