July 30, 2020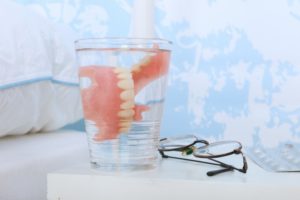 If you're missing an entire arch of teeth, you're likely grateful to have your dentures in Sunnyvale to restore the function and feel of your smile. Unfortunately, over time, they may become damaged or ill-fitting, due to an accident or your oral structure changing over time. It's important to know the common signs to look out for to know whether you should get them replaced. Read on to learn about some common symptoms of ill-fitting dentures and why it's important to see your dentist as soon as possible if you notice them.
How Can You Tell If Your Dentures Don't Fit Right?
When your natural teeth were present in your mouth, the roots provided necessary stimulation and blood flow to your jawbone, keeping it from deteriorating. Now that they're no longer there, you may notice your facial shape changing over time, even if you wear your dentures every day. That's why it's important to get them regularly adjusted, relined, and replaced throughout their lifespan, which typically falls between five and seven years. Here are some signs that you need to schedule a visit with your dentist in Sunnyvale:
General discomfort
Shifting and slipping dentures
Difficulty speaking, eating, and swallowing
Painful and bleeding gums
Chronic bad breath
A strange taste in the mouth
A clicking noise when you open and close your mouth
What Long-Term Problems Can Ill-Fitting Dentures Cause?
If your dentures don't fit properly, it's vital to visit your dentist to get them adjusted, or else you may develop other long-term conditions. Some of these problems include:
Chronic inflammation caused by shifting dentures that rub against your gums and lips.
Mouth ulcers that need to be treated with corticosteroids and antiseptic.
Infections caused by trapped food debris and bacteria between your shifting dentures and gums.
A higher risk of oral cancer due to chronic inflammation and infection.
What Should You Do About Ill-Fitting Dentures
Once you visit your dentist, they'll let you know whether your dentures need to be readjusted or completely replaced. If you're unhappy with your dentures, or are looking for a longer-lasting option that is able to provide your jawbone with the important blood flow that it needs to remain strong, dental implants in Sunnyvale may be a better replacement solution. These are small, titanium posts that are surgically placed below the gumline and fuse with your jawbone. Once your gums heal, small connector pieces will be attached. These will secure your customized denture in place, so you won't have to worry about having to take it out every night or get it replaced every seven years.
Taking care of damaged or ill-fitting dentures sooner rather than later can help you avoid major headaches down the road. That's why it's vital to remain conscious of out-of-the-ordinary symptoms that could lead to you needing new restorations.
About the Author
Dr. George Philip is passionate about helping his patients feel confident and proud of their smiles. That's why he offers a variety of tooth replacement solutions that are customized to each of his patients' needs. He also regularly completes continuing education courses to stay up-to-date with the latest techniques and technology in his field, including dental implants. For questions or to schedule a consultation, visit his website or call 972-285-6144.
Comments Off

on Do You Have Ill-Fitting Dentures? Here's How To Find Out
No Comments
No comments yet.
RSS feed for comments on this post.
Sorry, the comment form is closed at this time.