June 7, 2020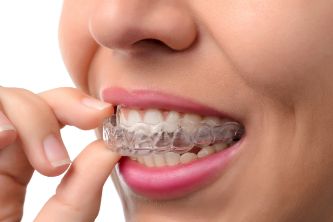 For many people, crooked or crowded teeth make them feel embarrassed and self-conscious every time they smile. Unfortunately, that's not the only consequence – your dental health is also affected in surprising ways! The good news is that you have options for straightening your teeth that don't involve metal brackets and wires. Invisalign in Sunnyvale is an outstanding alternative to traditional orthodontic treatment that will not only boost your self-confidence but also improve your oral health. Learn more below!
How Does Having Straight Teeth Improve Your Oral Health?
In large part, the health of your teeth and gums depends on how well you brush and floss. Crooked or crowded teeth create a lot of hard-to-reach areas that harbor plaque, bacteria, and tartar. Even if you brush twice a day, you're still at higher risk for cavities, gum disease, and bad breath because it's harder to reach all the nooks and crannies in and around your teeth.
Straightening your teeth will make your brushing and flossing habits more effective. By keeping your teeth and gums cleaner, you'll improve your oral health and reduce the amount of dental work you need. And, from a cosmetic standpoint, you'll have less staining around your front teeth as well.
Additional Benefits of Invisalign
Until about 20 years ago, traditional braces were the only way to straighten your teeth. Many people, particularly adults, avoided orthodontic treatment because they didn't want the embarrassment or hassle of being in brackets and wires. Then Invisalign came along and changed everything.
Now, a dentist in Sunnyvale can gradually move your teeth into their ideal positions with clear, removable trays called aligners. This not only allows you to enhance your appearance and improve your oral health but also offers the following benefits as well:
Comfort – Metal braces can be irritating to your lips and cheeks. Invisalign aligners are thin, smooth, and much more comfortable.
Less treatment time – Traditional braces stay on an average of 18 to 24 months, while the average treatment time for Invisalign is just 9 to 18 months.
It's flexible and fits your lifestyle – While you must wear your aligners at least 20 to 22 hours per day to get your results on time, you still have the flexibility to remove them for special events like weddings or job interviews.
Simply put, if you'd like better dental health and more self-confidence (without brackets and wires), Invisalign is an excellent choice!
About the Author
Dr. George T. Philip is a general and cosmetic dentist in Sunnyvale with more than 15 years of experience. He's committed to excellence in everything he does and loves offering Invisalign because of the outstanding results it provides, without the drawbacks of metal braces. If you're interested in Invisalign or have any questions, he can be reached via his website.
Comments Off

on Is It True That Invisalign Can Make Your Teeth Healthier? You Bet!
No Comments
No comments yet.
RSS feed for comments on this post.
Sorry, the comment form is closed at this time.