March 23, 2020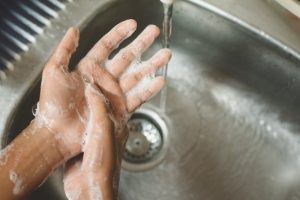 Your mouth is one of the main entry points for the novel coronavirus. That means if you want to stay healthy, you have to make sure your mouth is as clean and germ-free as possible. While regular brushing and flossing can go a long way in keeping your mouth healthy, there are other things you need to know about oral health habits that prevent COVID-19. A dentist in Sunnyvale has written this guide with a few pointers.
1. Wash Hands Before Brushing Teeth
Many of us know that the coronavirus is transmitted by touching your face, particularly your mouth. But a lot of us tend to forget that when caring for our oral health. Get in the routine of washing your hands before your normal brushing and flossing routine.
2. Disinfect Your Toothbrush Weekly
Here are a few ways to keep your toothbrush free of germs:
Run your toothbrush through a full dishwasher cycle.
Soak both the handle and brush in a solution of one part household bleach and nine parts water. Alternatively, you could soak it in a 70% alcohol solution.
Boil your toothbrush in water for five minutes.
3. Keep Your Toothbrush Holder Clean
After brushing, do NOT store your toothbrush in a cabinet, drawer, or travel case. These places are teeming with bacteria that could easily infect you. If you're sharing a holder with someone, make sure your toothbrushes do not touch. About once a week, run your toothbrush holder through a full dishwasher cycle to minimize exposure to germs.
4. Do Not Share Toothpaste or Floss
People can carry the coronavirus for several days to even two weeks without displaying symptoms. Even if you think your partner or roommate is well, they could still be passing the virus onto you. That's why you should each have your own tube of toothpaste and container of dental floss.
5. Replace Your Brush If You Get Sick
Normally, you should purchase a new toothbrush every three months, but make sure to do it sooner if you have developed any symptoms of sickness. Otherwise, germs that have deposited on your toothbrush could re-infect you later on, getting you sick all over again.
6. Practice Social Distancing While You Brush
If you and your spouse brush your teeth at the same time, be sure to stand at least six feet apart. Bacteria from your mouth enter the air when you brush, so if either party has the virus, they could unknowingly transmit it to the other. Both of you are better off brushing at different times.
By implementing the habits described above, you can not only improve your oral health in general, but drastically lower your risk of contracting COVID-19.
About the Author
Dr. George Philip is a family dentist in Sunnyvale, TX who studied at the Nova Southeastern University College of Dental Medicine in Ft. Lauderdale, where he earned his Doctor of Dental Medicine degree in 2003. The following year, he purchased his own practice in Sunnyvale, where he has been providing excellent care to patients of all ages ever since. To learn more about preventive oral health habits that could prevent you from getting sick, visit Dr. Philip's website or call (972) 285-6144.
Comments Off

on 6 Oral Hygiene Habits That Can Help You Avoid COVID-19
No Comments
No comments yet.
RSS feed for comments on this post.
Sorry, the comment form is closed at this time.