January 23, 2020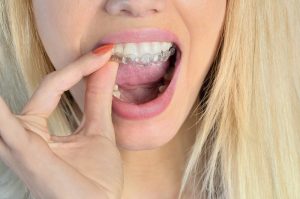 If your teeth aren't perfectly straight, odds are you've at least considered changing that. Maybe you don't want to wear metal braces, but luckily there's an alternative – Invisalign in Sunnyvale. This series of clear plastic aligners is worn over your teeth to discreetly and comfortably shift them into the desired position. Besides making all of your teeth appear more uniform, Invisalign can solve several other problems in your smile. Keep reading to learn seven of them.
1. Crooked Teeth
For teeth that are generally misaligned, Invisalign provides the perfect opportunity to straighten them while being virtually unnoticeable.
2. Underbite
An underbite (when the bottom teeth protrude in front of the top teeth) can cause speech difficulties and accelerate general wear and tear of your tooth enamel, which can lead to sensitive teeth. In many cases, Invisalign can be used to shift the top and bottom teeth so that they're properly aligned.
3. Overbite
An overbite is when the upper teeth naturally close too far in front of the lower teeth. This can make it harder to bite into and chew certain foods. Invisalign can usually remedy this so that your top and bottom teeth are in the right place when your mouth is closed.
4. Crossbite
When some upper teeth sit inside the lower teeth instead of outside, it's called a crossbite. It can eventually lead to your enamel chipping and wearing down and even cause receding gums. These problem teeth can be moved into the right place with Invisalign.
5. Gaps in Teeth
Bits of food can get caught in gaps in between teeth and attract bacteria that cause cavities and gum disease. For most minor gaps between teeth, Invisalign is the perfect treatment.
6. Open Bite
If your upper and lower teeth don't meet when you close your mouth, you have what's called an open bite. Invisalign can generally close this space.
7. Crowded Teeth
Some people don't have enough room in their jaw to accommodate all their teeth, causing crowding. Food particles can get more easily stuck between crowded teeth and cause a buildup of plaque and tartar that leads to a whole host of problems. Depending on the severity of the problem, Invisalign can usually correct crowded teeth.
If any of the problems listed above sound familiar to you, it may be time to pay your dentist in Sunnyvale a visit to see if Invisalign is right for you!
About the Author
Dr. George Philip is a 2003 graduate of the Nova Southeastern University College of Dental Medicine in Ft. Lauderdale. The following year, he purchased his own practice in Sunnyvale, TX, where he still practices to this day. He is certified in Invisalign to help you correct all kinds of problems with your smile. To learn whether you're a good candidate for Invisalign, visit Dr. Philip's website.
Comments Off

on 7 Problems That Invisalign Can Fix
No Comments
No comments yet.
RSS feed for comments on this post.
Sorry, the comment form is closed at this time.