August 9, 2019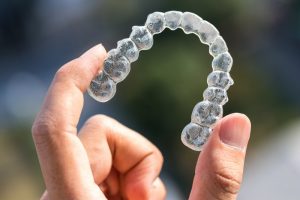 After eating your lunch and throwing away your trash, you begin looking around the table for your Invisalign aligner. After you realize there's no sign of it, you begin to panic because you think you accidentally threw it out. Unfortunately, these kinds of accidents happen more than you may think. Invisalign in Sunnyvale is a great alternative treatment to traditional metal braces, but sometimes trays can become damaged or misplaced when they're not consistently stored in their case. Here are some tips on what you should do if you find yourself in this situation. <
Don't Advance to the Next Set Yet
It may be tempting to solve the problem yourself and avoid an additional visit with your dentist in Sunnyvale by continuing to power through your Invisalign treatment. Although this sounds convenient, it's important to remember that each set of aligners is specially designed to move your teeth gently and slowly into their designated positions. When you advance to the next series in your treatment too early, it may alter the timeline that your dentist has set for you and cause oral damage. Instead, contact your dentist right away and they can inform you as to whether or not it's safe to advance to your next tray.
Schedule an Appointment With Your Dentist
Losing Invisalign aligners is a common problem, so don't feel embarrassed if you've accidentally thrown them out or damaged them. In fact, some treatments include two replacement trays in the cost. So, when you find yourself panicking calm yourself down, pick up the phone, and schedule an appointment to see if you need a replacement aligner.
Act Sooner Rather Than Later
The sooner you act to replace your damaged or lost aligner, the less your treatment timeline will be set back. Remember, they can easily be replaced, and sometimes at little to no additional cost, so instead of hesitating, let your dentist know immediately. This way, your treatment may only be set back by a week or two. The longer you wait to solve the problem, the longer your treatment will last.
Be Proactive and Prevent Losing or Damaging Your Trays
You can avoid losing or damaging your trays by carrying the case around with you wherever you go. That way, if you stop to eat or snack, you'll always have a safe place to store them. Also, remember to never eat or drink with your aligners in. This can cause them to crack or become damaged. Even though it may be tempting to chew gum, remember that this can also break them.
For the best results, wear your trays for at least 22 hours each day and always keep a close eye on where you set them down. If you run into any issues while you're undergoing treatment, don't hesitate to contact your dentist immediately. This way, you won't need to add any additional time to your treatment.
About the Author
Dr. George Philip is a proud Texan dentist, raised and educated here. He is passionate about improving his patients' confidence and oral health by providing them with the latest and greatest dentistry has to offer. These include services like Invisalign treatment, the comfortable and easy alternative to traditional metal braces. For questions or to schedule a consultation to learn how Invisalign can help you, visit his website or call 972-285-6144.
Comments Off

on Invisalign 911: 4 Steps to Follow If You've Lost or Damaged Your Aligner
No Comments
No comments yet.
RSS feed for comments on this post.
Sorry, the comment form is closed at this time.