June 28, 2019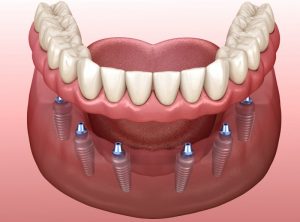 How long has it been since you had some yummy crunchy chips? What about some delicious hard candy? If you're missing teeth, it has probably been too long. Fortunately, there is a solution – dentures. Regular dentures can restore your biting ability, but dentures retained by dental implants in Sunnyvale can even more so. Let's look at the differences between the two.
What Are Traditional Dentures?
Traditional dentures are false teeth attached to an acrylic base that looks like gum tissue. They are typically attached to the gums using a combination of natural suction and denture adhesive. They can be either full (covering an entire arch of the mouth) or partial (covering only a few teeth). Dentures, no matter which type, can restore your ability to eat and feel confident in your smile.
What Are the Pros of Traditional Dentures?
Traditional dentures have some advantages, such as:
Restoring your ability to feel comfortable smiling
Allowing you to eat crunchy and chewy foods again
Letting you speak without any impediments from missing teeth
What Are Implant-Retained Dentures?
Implant-retained dentures are held in place not by suction or denture adhesive, but by multiple dental implants. Your dentist in Sunnyvale will attach implants, or titanium posts, into your jaw, where they will gradually become one with your jawbone and mimic the function of tooth roots. They will act as anchors for your dentures, preventing them from slipping around while eating and talking, as traditional dentures sometimes do.
What Are the Advantages of Implant-Retained Dentures?
Implant-retained dentures offer many benefits that traditional dentures do not, including:
Bone retention: With regular dentures, your jawbone is not stimulated by dental implants. Without stimulation from biting and chewing, the bone can deteriorate and give the face an older, more sunken look. Implant-retained dentures allow you to keep looking young.
Comfort: Implant dentures get their support from below the gumline, allowing the denture itself to be smaller. This helps it fit more comfortably in the mouth.
Bite improvement: Research has shown that normal dentures restore about 20 percent of your biting ability, while implant dentures restore up to 70 percent! This means you can chew crunchy and chewy foods much more easily.
Both types of dentures offer more benefits that simply going without teeth. However, implant dentures are clearly a much better investment. If you want to restore your smile to its former glory, talk to your dentist and see if implant-retained dentures are right for you.
About the Author
Dr. George Philip opened his own dental practice in Sunnyvale, TX in 2004, after studying dentistry at the Nova Southeastern University College of Dental Medicine in Ft. Lauderdale, FL. To ask him which type of dentures are right for you, click here or call (972)-285-6144.
Comments Off

on Traditional Dentures vs. Dentures Retained by Dental Implants in Sunnyvale
No Comments
No comments yet.
RSS feed for comments on this post.
Sorry, the comment form is closed at this time.