June 9, 2019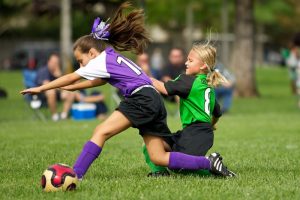 As a parent, you love watching your teenager succeed on the pitch, but you're constantly worried about them getting hurt. After the Women's World Cup, your daughter is inspired to get out there and give it her all, just like the world's best. While oral trauma is unavoidable in contact sports, you're considering the best protective option from your dentist in Sunnyvale, a custom-made sports mouthguard. This summer, protect your teen on the soccer field by scheduling an appointment with their dentist. Read on to find out how a mouthguard can save your child's priceless smile.
What is a Custom Mouthguard?
No matter what age your athlete is, they should always protect their bodies from trauma. Sports guards from your dentist are custom-created devices that go over your child's teeth to protect them and reduce their risk of sustaining injuries to their face and head. It's best to wear these during any activity that could cause their mouth to become injured. These guards typically just cover their upper teeth and are specially designed, even if your child is wearing braces, or has other restorations such as a bridge.
How Can a Sports Guard Save Your Child's Mouth?
There is a laundry list of reasons that your child should protect their mouth from flying balls and impact. Not only can getting a custom-fitted guard save you the headache and time of a visit to your emergency dentist, but some other benefits include:
Reduced risk of knocked-out teeth
60-times less likely to sustain oral damage
Reduced risk of a broken jaw
Setting back orthodontic treatments they may be undergoing
Easier breathing and speaking ability while playing
Individually designed for your child's unique mouth
The American Dental Association predicts that sports mouthguards help prevent over 200,000 dental injuries every year. Although they may be the more expensive option, they're the best protective choice that can save you from spending thousands of dollars in dental treatments down the road. They're also the most comfortable and safe option for your athlete.
What's the Process of Getting a Custom-Fitted Sports Mouthguard?
When you schedule your athlete's appointment for a custom nightguard, their dentist will take impressions of their teeth to create a model of their mouth. With that, they can custom-craft a sports guard to comfortably cover the entire surface of their upper teeth.
As a parent, it's important to you that your child is protected while doing what they love, and custom-fitted sports mouthguards from your dentist do just that. Plus, they're easy to take care of. All your child needs to do is clean it with cool, soapy water regularly and keep it out of hot temperatures to keep its shape.
This summer means attending soccer games for your aspiring athlete. To ensure their maximum performance and safety, ease your worries by scheduling a visit with your dentist today. Save you and your child time, money, and future headaches by preventing them from sustaining oral damage.
About the Author
Dr. George Philip enjoys improving his patients' oral health and giving them the knowledge they need to maintain great-looking smiles for years to come. He has been practicing dentistry since 2003 and is constantly sharpening his skills by attending continuing education courses. He looks forward to providing his patients with comprehensive care, offering every service from custom-crafted sports mouthguards to Invisalign. For questions or to schedule an appointment, visit his website or contact 972-285-6144.
Comments Off

on Save Your Child's Teeth with a Custom-Fitted Mouthguard from Your Dentist in Sunnyvale!
No Comments
No comments yet.
RSS feed for comments on this post.
Sorry, the comment form is closed at this time.