April 20, 2019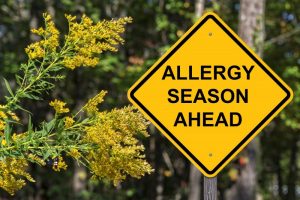 Seasonal allergies hit you this morning when you woke up with swollen eyes and an unbearably scratchy throat. It took all your energy to throw your legs out of bed and start getting ready for work. As much as you feel like skipping brushing and flossing, you know you can't slack on your oral hygiene routine. While your body's battling with all the pollen and dust in the air, you're probably not considering how it's affecting your oral health. Your dentist near Mesquite lets you in on how allergy symptoms can leave you susceptible to developing oral health problems. Read on to learn how to keep your dental health in check this season.
How Can Allergies Affect Your Dental Health?
Allergy season is just kicking off, and the last thing you're thinking about is your mouth. Hay fever can heavily impact your teeth and gums if you're not sure how to fortify your oral health. Here's how the most common seasonal allergy symptoms can affect your mouth:
Scratchy and sore throats are a common sign that it's allergy season. This is caused by postnasal drip and can result in bad breath. Because it originates in your throat and not your mouth, brushing your teeth won't be effective in fighting it.
Dry mouth during allergy seasoncan be caused by a couple of different factors. Because your nose is stuffy, you may find yourself breathing through your mouth more often. You may also be experiencing a side effect of taking antihistamines. Not only is dry mouth uncomfortable, but it leaves you at risk for developing cavities, infections, and gum disease. Because of the lack of saliva, there's nothing in your mouth to rinse away harmful bacteria and sugars that are building up.
Sinus pressure can be the most uncomfortable symptom of allergies. This is caused by the hollow spaces in your head being clogged by mucus, resulting in an aching feeling in your face. Because the largest sinuses are located directly above your mouth, when the pressure builds up, it can push down on your molars. This can cause you to experience sensitivity to hot and cold.
Whenever these symptoms start to present themselves, you can talk to your dentist about whether they believe they're allergy-related or caused by other oral health problems. This will ensure that you're provided with the treatment you need.
What Can You Do to Take Care of Your Mouth This Allergy Season?
There are a few basic actions you can take at home to help keep your dental health in check:
Drink plenty of water to ensure that your mouth and body are well-hydrated. This can help counter symptoms like dry mouth and provide temporary relief to scratchy throats. It can also aid your body in getting rid of mucus.
Take allergy medicine to help control your symptoms and reduce their impact on your oral health. You can also talk to your doctor about any long-term medicinal options like prescription medications and allergy shots.
Gargling with salt water can help clear your sinuses of mucus and relieve pressure. It also helps get rid of harmful bacteria in your mouth and reduces your chances of developing cavities or infections by cutting down on plaque buildup.
Continue keeping up with your oral health by regularly brushing and flossing. Even though you may be preoccupied with fighting allergy symptoms, be sure to schedule your routine checkup and cleaning with your dentist. This will give you a chance to talk with them about any issues or pain you're experiencing. It also reduces the chance that you'll be impacted by harmful effects allergies will have on your mouth like cavities.
About the Author
Dr. George Philip is a raised and educated Texan dentist who uses his experience and knowledge to help his community maintain bright and healthy smiles. He enjoys building relationships with his patients so he can better understand their needs and provide them with the individualized treatment they deserve. With over a decade of experience, you're sure to feel in great hands at Dr. George T. Philip Family and Cosmetic Dentistry! For any questions or to schedule an appointment for a checkup and cleaning, visit his website or contact 972-285-6144.
Comments Off

on As if Seasonal Allergies Weren't Bad Enough—Your Dentist Near Mesquite Discusses How They Affect Oral Health
No Comments
No comments yet.
RSS feed for comments on this post.
Sorry, the comment form is closed at this time.