April 15, 2019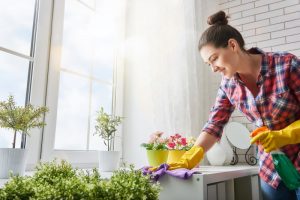 As soon as you open your front door to go to work, a surprisingly warm gust of air hits your face. It's time for you to start pulling out your summer clothes from the attic and give your home a thorough cleaning so you can enjoy a decluttered summer. Clearing physical messes gives you a sense of relief and organization, but before you get to cleaning everything out in your home, consider starting with your oral health. Spring cleaning season is the perfect time to schedule your semi-annual visit with your dentist near Mesquite. Feeling great about your health and overall wellbeing can give you the much-needed motivation to tackle tidying up the rest of your belongings. Read on to learn what to expect during your regular checkup and cleaning.
Why Should You Visit Your Dentist Regularly?
Attending your semi-annual dental checkup and cleaning could be more important than you thought. Skipping out on your visits could not only cost you more in the long run, but also be detrimental to your oral health. Here are 3 reasons to attend your semi-annual checkup and cleaning:
Protect yourself against harmful diseases. Getting screened for serious illnesses such as oral cancer and gum disease can not only keep you from suffering tooth loss, but it could also save your life. The sooner they detect symptoms of these diseases, the easier they are to treat.
Control plaque, tartar, and cavities. Even though you may diligently brush and floss daily, it's impossible for you to get every crevice of your mouth. Your dentist has special tools and professional equipment they use to remove hardened plaque that could cause cavities and infections.
Find problems that you can't see. The problems that are hidden underneath the surface can easily be spotted by your dentist with X-rays. Your dentist can effectively treat serious issues before they progress and cause you more harm.
What Can You Expect During Your Dental Visit?
There are two main components to your semi-annual visit: the checkup and the cleaning. During your checkup, your dentist or hygienist will inspect your mouth for any cavities, signs of oral cancer, and signs of gum disease.
During your cleaning, your dental professional will clean your teeth using a special tool called a scaler. This helps get rid of hardened plaque that you can't get with a regular toothbrush. After that, they'll polish your teeth with a gritty prophylaxis paste. Lastly, they'll floss your teeth to remove any food debris and send you on your way!
What's Should You do Between Each Visit?
Taking care of your mouth between dental visits can make them quicker because your hygienist will have less to clean. Plaque will always form on your teeth, but you can help manage it by brushing and flossing regularly with fluoridated products.
Put yourself first this spring by taking care of your mouth and being confident in your overall wellbeing. Visiting your dentist will make you feel great about your smile and make you ready to take on cleaning the entire house!
About the Author
Dr. George Philip has been providing his community with healthy smiles since 2004. He provides his patients with the latest dental technology and treatments by taking continuing education courses. He looks forward to getting to know everyone that walks through his doors and providing them with the highest quality of care. For any questions or to schedule a checkup and cleaning, visit his website or contact 972-285-6144.
Comments Off

on Kick Off Spring Cleaning Season with Your Dentist Near Mesquite
No Comments
No comments yet.
RSS feed for comments on this post.
Sorry, the comment form is closed at this time.