August 4, 2018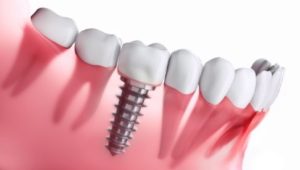 Dental implants in Sunnyvale are an outstanding investment in your oral health. No other replacement option will look, feel or function more like your own natural teeth. And the best part is that they last many decades, or even a lifetime, provided that they're well maintained and cared for. Since implants can't get cavities the way that normal teeth can, many people think that that they're maintenance-free. Unfortunately, that's simply not true! In this blog, you'll learn why implants still require care and what steps you can take to enjoy their benefits as long as possible!
Why Do Implants Still Require Care and Maintenance?
While it's true that implants can't develop tooth decay, they can fail due to problems with the gums (and underlying bone) that surround and support them. Gum disease is one of the leading causes of tooth loss, and it can threaten the health of implants as well.
How? Imagine how an implant looks. It's a titanium post that placed in the jaw to take the place of a missing root. The jawbone you see around it is what gives implants their unmatched strength and stability over other tooth replacement options.
If the gum tissue around the implant isn't clean and healthy, this supportive bone can disappear over time, causing the implant to become unstable and possibly fail.
What Should You Do To Maintain Your Implants?
The good news is that caring for dental implants doesn't require anything complicated. Here are some tips that will help you get the most out of them for many years:
Establish good hygiene – It's crucial to brush twice a day and floss at least once, just as you do with your natural teeth.
Get regular dental care – Seeing a dentist in Sunnyvale for checkups is important so you can have a professional monitor the health of your implant. They'll also make sure your implant has adequate bone support and can catch any potential problems early. It's also helpful to ask a dentist for a flossing demonstration to make sure you're doing a good job with hygiene at home.
Use the right tools – For some patients, certain tools are more effective and easier to use than others. For example, a woven or textured floss may remove more plaque than the super smooth kind. Or an electric toothbrush or oral irrigator might be the best way to keep the tissues around an implant clean.
After you've invested in your oral health with implants, these guidelines will increase your chances of enjoying your newly restored smile for as long as possible!
About the Author
Dr. George Philip is a general, cosmetic and restorative dentist in Sunnyvale who not only provides outstanding dental care, but also teaches his patients the best way to maintain their results. If you have any further questions about the best way to maintain your implants, he can be contacted through his website or at (972) 285-6144.
Comments Off

on A Short Guide To Caring For Your Dental Implants in Sunnyvale
No Comments
No comments yet.
RSS feed for comments on this post.
Sorry, the comment form is closed at this time.