March 9, 2018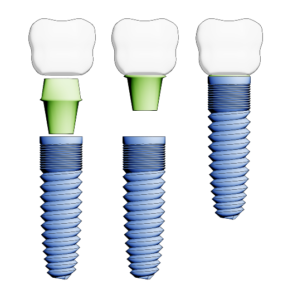 Are you among the 120 million adults in the United States who are missing at least one tooth? If so, your confidence and quality of life were lost along with your teeth. Now, you feel insecure when you smile while also living with new challenges when chewing and speaking. To regain a beautiful, functional smile, you have heard about the benefits of dental implants; however, you have also heard that they cost more than traditional options, like a bridge. Although they may cost more upfront, they provide a lifechanging investment that makes them worth the cost. When determining how much you can expect to pay, there are several factors your dentist in Sunnyvale will consider.

How Much Do Dental Implants Cost?
Unfortunately, there is no easy answer as to how much you can expect to pay for your new smile. On average, a single unit can range in price from $3,000 to $5,000; however, that does not mean that you will pay that much.
The cost of your procedure is based on several factors that relate to your individual treatment plan. As a result, what a friend or neighbor paid for their procedure will not be the same amount that you will spend.
When determining how much your new smile will cost, there are several things that will need to be considered, such as:
How many teeth are being replaced
Additional procedures, like tooth extractions or bone grafting
Anesthesia or sedation
Specialists
Dental insurance coverage
During your initial consultation for dental implants in Sunnyvale, your dentist will provide you with an estimate and discuss your payment options.
Are Dental Implants Worth the Cost?
Although dental implants do cost more than traditional forms of tooth replacement, like dentures or partials, they are worth every extra penny. They have over a 95% success rate, allowing them to potentially remain in place forever with the right aftercare, like maintaining your oral hygiene and regular dental appointments. As a result, they are more cost-effective long-term.
Eventually, they will pay for themselves. In addition, you will make a true investment in your quality of life due to the various benefits they offer, such as:
Closely look and feel natural
Stop bone loss in the jaw
No slipping, irritation, or discomfort
Improved biting force
Promote your oral health
Long-term solution
Invest in Your Smile Today!
If you are tired of living with the challenges of tooth loss, you can make a true investment in yourself with dental implants. Do not let the cost of the procedure stop you from improving your quality of life. Get an estimate for your new smile today!
About Dr. George T. Philip
Dr. George T. Philip is a trusted dentist in the community for world-class dental care. He offers the solutions you need for a healthy smile. In addition to general dentistry, he offers many areas of specialty care, including dental implants. If you are living with tooth loss, he can help you fill the empty space. Contact our office today to schedule your consultation.
Comments Off

on Dentist in Sunnyvale Explains the Cost of Dental Implants
No Comments
No comments yet.
RSS feed for comments on this post.
Sorry, the comment form is closed at this time.