Single Tooth Dental Implants – Sunnyvale, TX
Close the Gap For Good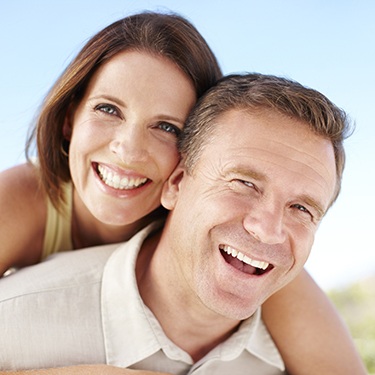 While a single missing tooth might just seem like a cosmetic problem, the truth is that the gap in your smile can spell big trouble for your oral health as well. People with missing teeth are much more likely to develop gum disease and alignment problems as a result, and this tends to lead to…even more tooth loss! To help restore your smile and prevent these issues from ever popping up, Dr. George T. Philip can provide you with a dental implant. With it, he can make it seem like your tooth was never missing in the first place, giving you a solution that can be trusted to look great and last for decades.
Replacing a Single Tooth with an Implant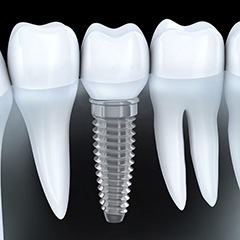 Dental implants differ from bridges and dentures in that they actually replace the root structure of a tooth as well as the crown. This is done by placing a small titanium post directly into the jawbone where the tooth root used to be. This can then be attached to a restoration to close the gap. For people missing a single tooth, an implant can support a custom-made all-porcelain crown that Dr. Philip designs to blend into the smile.
The Benefits of Single Tooth Implants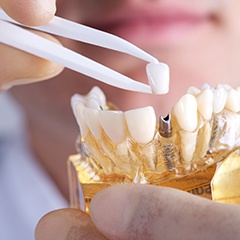 Natural Appearance : Dental implants are built just like natural teeth, so they look and function like them as well. In the end, the only person who will know the tooth isn't real is you and your dentist!
Longevity : Just with regular brushing, flossing, and dental visits, a single dental implant can be trusted to last for 30 years or more.
Unmatched Security : Unlike removable dentures or bridges, implants can be trusted to always stay firmly in place because they are made of a strong material that is supported by the jawbone.
Is an Implant Right For You?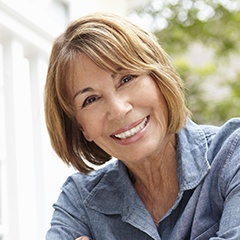 If you're interested in getting a dental implant to replace your missing tooth, all you need to do is contact Dr. Philip to schedule a consultation. He'll give you a brief exam and let you know if an implant is the best option for you. From there, it's only a matter of time before you have a full set of teeth again! If you're ready to rebuild your smile, contact us today.