The Dental Implant Process – Sunnyvale, Texas
Flawlessly Restoring Smiles from the Roots Up
Whether you've lost a single tooth, several, or a full row of teeth, dental implant supported restorations may be an effective solution to repair your smile and renew your full oral health and function. An implant supported tooth replacement plan does require patients to invest additional time and money to complete the process, but the initial investment delivers results that can last for a lifetime. If you want to learn more about the dental implant process, call your trusted Sunnyvale dentist George T. Philip, DMD to schedule a tooth replacement consultation appointment with our team. We look forward to helping you find the best possible treatment option to deliver a healthy, beautiful smile.
Preparatory Procedures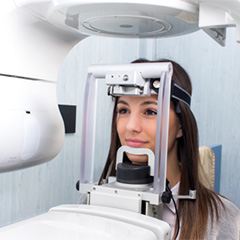 Before we can replace missing teeth with dental implants, we need to ensure your oral and overall health. This includes reviewing current and past health concerns, medications, and your jawbone density and gum tissue volume. We may need to extract damaged teeth, place a bone or soft tissue graft, or provide treatment like gum disease therapy to maximize your chances for successful dental implant placement.
Dental Implant Placement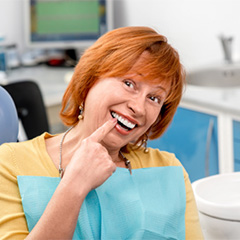 Once we have completed your plan and prepared your smile, we'll surgical place one or more dental implant posts. This is usually as simple as making a small incision in the gums. Then, we position the implant post into the gum line. A protective cap is attached to the implant, allowing it to heal and fuse with supportive structures over the course of several months.
Abutments & Restoration Design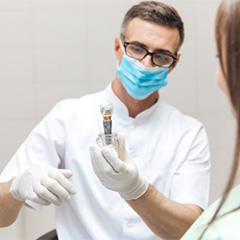 Once the implant has fused with the jawbone, you'll return so we can attach the abutments (connector pieces) and design your replacement teeth.
Replacement Teeth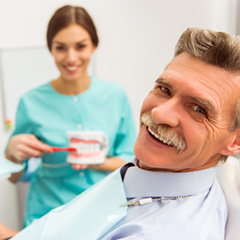 When we receive the dental crown, bridge, or denture from our lab, you'll return to the dental office for the final step of the restoration process. Dr. Philip will affix the restoration to your abutment posts, recreating a flawless smile you'll be proud to share. Most restorations are semi-permanently affixed, but removable dentures may also be available.
Ongoing Care & Maintenance
After your implant supported restoration is in place, you'll need to continue to properly care for these replacement teeth at home and during six month dental exams with our team. Once your implant supported restoration is in place, we will walk you through how to properly care for your smile and help you to maintain your restoration as long as possible.