Dental Implant Bridges & Partials – Sunnyvale, TX
Eat, Speak, & Smile with Confidence Again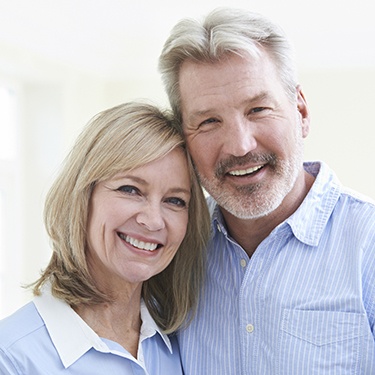 It's amazing how just a few missing teeth can affect your day to day life. Speaking can become awkward, food choices quickly narrow, and just smiling can become a source of anxiety. In the past, the only way to close these gaps involved partial dentures and bridges, but now, Dr. George T. Philip is able to offer his patients the most state-of-the-art solution available today: dental implants. With them, he can easily replace all of your missing teeth and give you a smile you can be proud of again.
How Do Implant Bridges/Partial Dentures Work?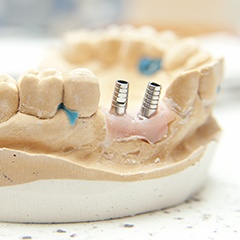 Unlike traditional bridges and dentures, dental implants don't need to "lean" on natural teeth in order to fill in the gaps in a patient's smile. Rather, implant bridges/partial dentures are secured directly to the jawbone using one or more titanium posts that simulate a tooth root. These new roots are used to support all-porcelain crowns, and these crowns can be attached to other prosthetic teeth to complete a patient's smile. Whether they are missing multiple teeth consecutively or all around the mouth, Dr. Philip can design a prosthetic perfectly suited to anyone's particular dental structure.
The Benefits of Multiple Tooth Implants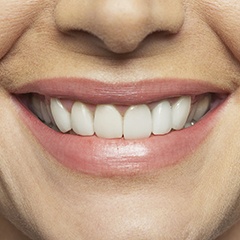 Lifelike Appearance: Bridges often have a telling black line near the gums that can make many patients feel self-conscious, but this isn't the case with an implant-retained bridge. They sit within the gum line just like real teeth, so they look completely natural and blend in.
Strength: Because implant restorations are held in place using the jawbone rather than relying on neighboring healthy teeth, they are much stronger and can be trusted to remain secure no matter what a patient is doing.
Results that Last: Implant bridges and dentures are one of the best investments in all of dentistry. They can easily last for 30 years or more with routine oral hygiene and regular dental appointments, which makes them extremely cost-effective over the long-term as well.
Come Get Your Smile Back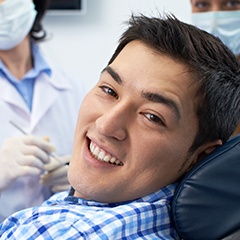 If multiple missing teeth are a daily reality for you, Dr. Philip is ready to offer a solution that you'll be able to trust for decades to come. To learn more about dental implants and how he can rebuild your smile for a lifetime, contact us today to schedule a one-on-one consultation.