Benefits of Dental Implants – Sunnyvale, TX
Discover the Benefits of Dental Implants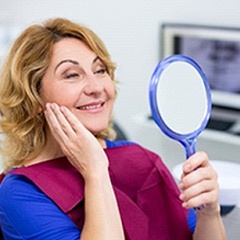 If you've experienced tooth loss, you can rebuild your smile using the next best thing to your real teeth. Dental implants in Sunnyvale are unlike any other treatment because they recreate the entire tooth structure, including the root. This allows you to enjoy a variety of benefits not possible with any other dental prosthetic, including:
Closely replicates the entire tooth. Dental implants feel completely natural because your jawbone fuses to the implant post, so you'll never need to worry about any slipping or irritation. In fact, you can regain as much as 70% of your natural biting force. In addition, your restoration is made of all-ceramic material to mimic the appearance of your natural tooth. You can chew, speak, and smile confidently because no one will know it isn't your real tooth.
Long-term solution. Dental implants are the most reliable treatment for missing teeth. They have over a 95% success rate and are proven to last for decades with the right aftercare. This allows you to invest in your oral health and your quality of life because you should never need to worry about having them replaced if you maintain your oral hygiene at home and visit your dentist in Sunnyvale regularly.
Improves your oral health. A dental implant is the only treatment to stop bone loss associated with missing teeth. The implant post stimulates your jaw to encourage new growth. This keeps your jawbone strong to preserve any remaining teeth. As a result, you'll stop dental drift to lower your risk of cavities, gum disease, and additional tooth loss. Overall, dental implants lower your oral health expenses by preventing costly treatments down the road.
Added stability. Dental implants don't rely on any natural teeth for support. This allows them to remain unchanged to ensure they last for a lifetime with the right aftercare. Not to mention, you'll enjoy unmatched security, so you'll never need to worry about any slipping or irritation.
Easy maintenance and care. Your oral hygiene routine is essential to the long-term success of your new smile. Don't worry, dental implants don't require a lengthy maintenance process or any expensive cleaning products. Simply brush your teeth at least twice a day and flossing nightly just as you would your natural teeth. Pay a little extra attention when cleaning around the abutments, and don't forget to visit your dentist at least twice a year for a cleaning and checkup.
Affordable treatment. Although you'll initially pay more for dental implants, they are more affordable than you might realize. Often, you can use your dental insurance to lower the amount you need to pay. Your treatment is also performed in multiple steps, giving you more time to pay because the entire amount isn't due upfront. Our office will help you find the solutions you need to complete your smile without breaking the bank, like using third-party financing with CareCredit.
Schedule Your Consultation
If you're ready to discover the benefits of dental implants for yourself, contact our office today to schedule your consultation.